News for Primavera Users - Winter 2014
We are pleased to share with you the latest news of interest to project-driven organizations. If you have any questions about these or related topics, don't hesitate to contact us!
Stay Informed and Help Your Organization Leverage Your Business Systems for Maximum ROI - Free of Charge
Be in-the-know. Take advantage of our live and recorded webinars. We have new live webinars scheduled to help you learn about the latest Primavera offerings and what they can do for you. If you can't attend the webinars on the day they are scheduled, register anyway and we will send you a link to the recording after the live event. We also have many recorded webinars that you can view whenever convenient.
Live Webinars
Uncover Valuable Insights and Quickly Take Action With Primavera P6 Analytics and BI Publisher
Tuesday, February 11, 2014
Oracle's Primavera P6 Analytics is a packaged business intelligence solution that provides valuable insights into your Primavera P6 Enterprise Project Portfolio Management performance so you can uncover trends, discover the root cause of issues, and forecast costs, helping you to drive efficiencies in your project processes by making better decisions about your projects.
Oracle's Primavera P6 Analytics enables you to:
Uncover deep insights into projects as well as complete history and trends over time
Quickly identify potential performance issues
Take effective action to correct problems throughout the project lifecycle
Ultimately make better project portfolio decisions
This session will provide a basic overview of the P6 Analytics ETL process (sending data from P6 to the P6 Analytics data store). We'll also show how reporting is done in the P6 Analytics user interface, which you can use in your own instance immediately after the webinar. Register here.
Oracle Instantis Enterprise Track
Tuesday, February 25, 2014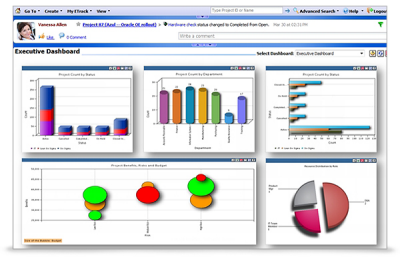 Learn how you can benefit from Oracle Instantis Enterprise Track, in the cloud or on-premises. Whether you are managing IT, new product development, or process improvement projects, Instantis can manage the full project lifecycle across your entire organization. Even better, Project Partners delivers integration between Oracle Instantis and Oracle E-Business Suite to quickly have you live with an enterprise project management solution that manages the finances, planning and delivery of your projects – from Idea to Closeout. Attend this webinar to learn more about Instantis and see first-hand how you can get started quickly and easily with this new integrated solution. Register here.
Our Latest On-Demand Recorded Webinars
Primavera Unifier for Capital Projects Management
Primavera Unifier provides solutions for capital project and portfolio management, facilities management, and real estate portfolio management. Learn about its intuitive user interface with a powerful, yet easy to use Workflow Engine, which can be tailored to your business to increase adoption, minimize training, and deliver rapid time to value. Whether employing prebuilt templates out of the box or building new configurations from scratch, Primavera Unifier delivers the best combination of ease of use and flexibility— no matter how large or small your deployment. View the Recording.
Learn About the New Primavera Gateway
The Primavera Gateway was recently introduced by Oracle, and it enables clients to integrate their P6 Platform to any ERP or legacy application. Primavera Gateway is JAVA based, and application-agnostic. Its use of graphical mapping between P6 and third party products enables clients to fully integrate their systems and be able to control their Project Financial information and schedules in an integrated manner, rather than in silos. View the Recording.
And Many More On-Demand Webinars
You'll find many, many more recorded webinars here. Take advantage of these free resources!
New Report from Oracle: The Changing Face of Enterprise Project Portfolio Management
A new report from Oracle's Enterprise Project Portfolio Management Board discusses two critical issues that have been debated by project portfolio management experts for years.
Are organizations best served by a central project management office or by a decentralized approach that distributes project management responsibilities among individual business units?
Should senior executives encourage the use of mobile tools and applications among EPPM professionals?
The First and Only Oracle Validated Integration With the New Primavera Gateway
Project Partners offers the first and only Oracle Validated Integration with the Oracle Primavera Gateway. Project Partners OP3 E-Business Suite Provider for Primavera Gateway has been certified by Oracle to work with Oracle's Primavera P6 Enterprise Project Portfolio Management. OP3 integrates Primavera P6 Enterprise Project Portfolio Management and the Oracle E-Business Suite.
This integration delivers one cohesive solution, allowing customers to eliminate disparate systems and fractured information, and enabling business flows never before possible. OP3 E-Business Suite Provider is for firms using the new Primavera Gateway. Firms using the Oracle Activity Management Gateway, first released with Oracle EBS Release 10.7, will want to use our Classic OP3 product for integration. Learn more about our OP3 products here.
For more information on any of these topics, or to learn what Primavera can do for your organization, Contact Us