PART 2 WEBINAR SERIES: Why Capital Projects? Taking it to the Next Level with Project Partners User Interface Applications (UI Apps)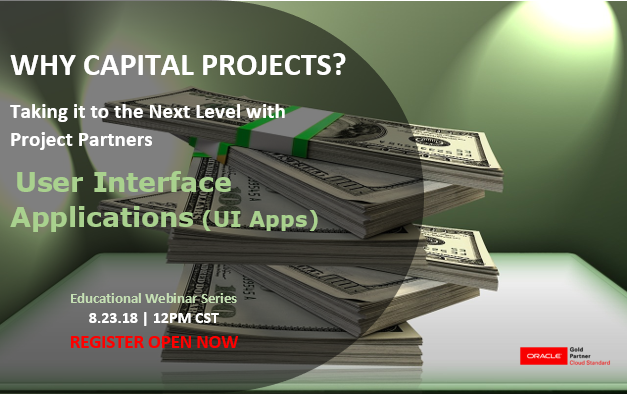 Through this three (3) part educational web-series, Project Partners will arm you with critical steps and insight into a Project Financials cost-effective solution. This unique solution offering will assist administratively burdened organizations like yours to effectively manage Project Financials around Capital spend through all phases of the Capital Lifecycle (Concept Definition, Funding Approvals, Execution, Reporting, and Managing Project Costs).
WHY CAPITAL PROJECTS? – WEBINAR REGISTRATION
CLICK TO REGISTER HERE for PART 2 of the three (3) part series as we explore the WHY and HOW to leverage EBS Project Financials for Capital Projects. We'll walk you through the solution focused around project costing to your specific business requirements, robust functionality, and use of authorizations for expenditures to further efficiency gains and extensive return on investments.
MISSED PART 1?  Don't Worry…CLICK HERE to get a downloadable recording so you will be up-to-speed!   

Have Questions?
Simply reach out to us and our experts will immediately assist, provide additional information, and ensure you have associated playbacks. We look forward to your attendance, and will set up a call to fully understand your needs, and offer next steps around a Project Financials cost-effective solution that best fits your organization.
P: #1.650.712.6203 Email: cfryc@projectp.com