Project Partners Proud Exhibitor & Speaker at COLLABORATE19!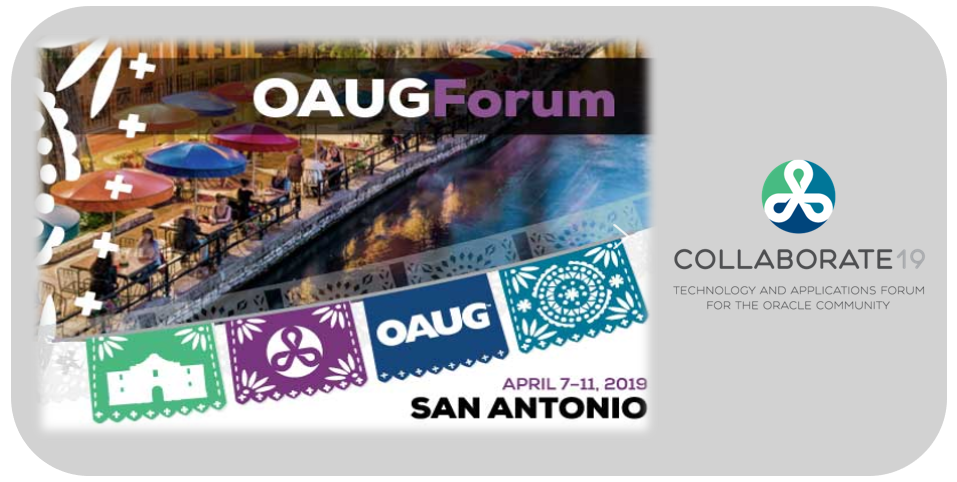 Picture it: A 4.5 day educational journey focused on your Oracle Applications in historic San Antonio. It's happening at COLLABORATE 19: Technology and Applications Forum for the Oracle Community, April 7-11, 2019!
Our PROJECT PARTNERS expert team will be on-site at COLLABORATE 19 from April 7-11, 2019, at the Henry B. González Convention Center, San Antonio, TX.  Bringing together attendees from three independent Oracle Applications users groups; IOUG, OAUG and Quest.
COLLABORATE 19 is the place to learn about what's coming next in features and functionality and to find out how to optimize usage of your applications. If you want to optimize on-premises applications, this is the place for you. Considering cloud, or are already on Cloud? Speak to our Project Partners expert team regarding your options, the pros, cons and lessons learned so you can influence good decisions for your organization with the knowledge needed to help keep you moving forward.
We are excited to talk and help all project-centric organizations while on site and participating in high-energy, 1000+ interactive education sessions, the exhibitor show-case and exciting networking events.
WE'RE PRESENTING AND EXHIBITING!  Join one of our very own, and historic Oracle Applications expert, Neeraj Garg, VP of ERP Solutions as he presents and demo's an Automated Resource Planning solution.  Don't stop there either – VISIT US at Kiosk #843 K2 to continue deeper dialogue, networking and grand prizes.  We are eager to hear more about your needs and how you can elevate your organization with Project Partners' proven innovative Oracle ERP Cloud, EBS, and Primavera solutions for your industry.
WATCH A QUICK VIDEO SNAPSHOT – Session #10708: Two Birds with One Stone! Automate Resource Planning with Project Financial Planning 
CONTACT US to

SCHEDULE AN APPOINTMENT at the Project Partners' Kiosk #843k2 ahead of time.
______________________
COLLABORATE 19: Technology and Applications Forum for the Oracle Community
Sunday, April 7-11, 2019
Henry B. González Convention Center
San Antonio, TX USA
#C19TX
https://collaborate.oaug.org/

About Project Partners, LLC.
Headquartered in Half Moon Bay, California | Project Partners is the global leader in optimizing business processes and IT investments within project-driven organizations. We are dedicated to helping businesses achieve their goals with smart, effective and scalable Oracle Application solutions that improve processes and deploy technology to maximize project life cycle ROI. Our business process experts understand and support customers with their evolving business models and help them drive productivity to meet the demands of the market and their organization.
Project Partners has a diverse team who is expert in leveraging Oracle's ERP Cloud, E-Business Suite and Primavera solutions. We have global locations worldwide to support multi-geographical operations and have executed implementations for hundreds of clients who manage tens of thousands of projects, thousands of users, multiple languages and currencies. In addition, we have developed products and solutions to support and augment our customers' off-the-shelf products.  Project Partners is proud to be widely recognized as The Experts in Solutions for Project-Driven Organizations™.
Project Partners is a proud Oracle Platinum Partner, Oracle Certified Education provider and authorized Reseller of Primavera and Oracle Cloud PPM, and Cloud Financials.  We hold an Oracle Cloud Standard certification, with specializations in Oracle® E-Business Suite™ with Projects, Primavera and Oracle Validated Integration's in EBS.
For more information, visit: http://www.projectp.com/