TimeSpeed™
Rapid Project Time Entry for Oracle® Time and Labor™ via Microsoft® Excel™
Stop wasting time recording time worked on projects! Project Partners offers two simple, easy to use applications that speed time entry into Oracle® E-Business Suite Projects™ and Oracle Time and Labor™.
If you want to enter simple time cards via your smartphone, then mProjects is the app for you.
If you have sophisticated, complex timecards or want to enter timecards for groups of people, Project Partners TimeSpeed is the right choice.
Project Partners TimeSpeed™ enables Oracle® E-Business Suite Projects™ and Oracle Time and Labor™ users to utilize Microsoft® Excel™ as a concise and user-friendly interface for rapid project time entry.
TimeSpeed utilizes both standard Excel features and the latest functionality in the Oracle E-Business Suite Projects Applications and Oracle Time and Labor (OTL), including the Timekeeper function in OTL, standard Oracle Public APIs, and more.
TimeSpeed allows project team members and support staff to enter and manage individual timecards, or to enter and manage group timecards.
Fast and Simple Time Entry
Utilizing the TimeSpeed worksheets as your source for time entry provides users with the following unique functionality.
All time entry tasks can be performed in a single worksheet - including new project and task additions, template management, comment entry, use of descriptive flexfields as well as viewing and updating historical timecards
Time entry can be done off-line and later synched with Oracle
Minimal training is needed by utilizing Microsoft Excel as a familiar interface for time entry
Fully Integrated with Oracle Time and Labor, Oracle Projects and Oracle Payroll
TimeSpeed employs the standard and secure Oracle self-service access to Oracle Applications and calls public APIs available in Oracle Time and Labor to validate the time entries and save and/or submit them to Oracle Time and Labor (OTL) as if entered from Oracle's HTML interface. Business rule validation is performed by OTL, so TimeSpeed users can leverage standard Oracle Projects functionality such as project assignments and transaction controls. Standard Oracle process flows deliver full integration with Oracle Projects and Oracle Payroll.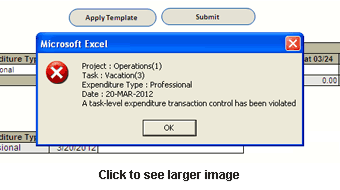 TimeSpeed Enforces Oracle Transaction Controls and Security
Benefits of Project Partners TimeSpeed
Improves user productivity by simplifying the time entry process with minimal training
No need for network connectivity, enter data whenever and wherever convenient
Rapid deployment and user adoption
Key Features
Configurable worksheets for individual and group time entry
Time entry in both connected and disconnected mode
All time entry functions available in one worksheet
Templates, Favorites and Auto-population enable faster time entry
Utilizes groups, preferences, workflows, and time entry rules defined in Oracle Time and Labor
Project time sent to Oracle Payroll and Oracle Projects
Enforces Oracle business rules and security
For more detailed information on Project Partners TimeSpeed: Contact Us