Oracle Instantis EnterpriseTrack
Instantis EnterpriseTrack is a leading cloud PPM solution used by IT and business process leaders to improve strategy execution and financial performance through more effective work and resource management. This end-to-end solution provides a top-down approach to managing, tracking, and reporting on enterprise strategies, projects, portfolios, processes, resources, and results.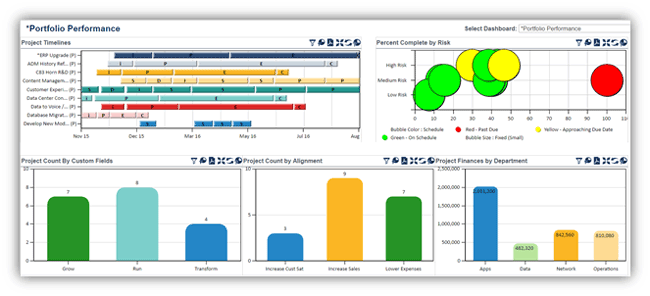 Portfolio Performance
(Click image to see larger view)


Portfolio Health Chart
(Click image to see larger view)
The quick benefits of Oracle Instantis EnterpriseTrack are:
Portfolio Analysis – You can easily plan and execute project portfolio strategies centrally and analyze your portfolio using Listing Pages, Dashboards, and Reports.
Decision Support – The information you need, when you need it. Monitor, report, and analyze work and project portfolio activity, status, and metrics.
Consistency (Projects, schedules, finances, and documents are started from templates)
Ease of administration – All administration is done with wizards, checkboxes and full training.
Resource Management – As you Allocate, Assign, and receive Actuals; you will know where your resources are working. Manage demand and resource utilization across your portfolios.
Deploy quickly and easily
Release 17.1 is the latest release of Oracle's Instantis EnterpriseTrack enterprise project portfolio management solution. Key enhancements in Instantis EnterpriseTrack 17.1 include:
New email notification functionality
Classification field enhancements
Activity links in the Non-WBS Activity Report
Calculated user-defined field improvements
Increased resource role flexibility
Project Status Report enhancements
Finance reporting improvements
Mobile enhancements
Register to read the details about all the new features in Instantis EnterpriseTrack 17.1 and how they can benefit your organization.
Why Project Partners and Instantis?
Project Partners offers an Oracle-approved solution to get you live and running on Instantis in 8 to 12 weeks. Oracle Accelerate for IT Portfolio Management With Oracle's Instantis EnterpriseTrack™ empowers IT to become a strategic business partner in helping drive the growth of their firm. Learn more about Oracle Accelerate for IT Portfolio Management.
Contact us to learn more about Instantis EnterpriseTrack