High Technology
Today's High Tech Industry
High Technology is experiencing unprecedented change fueled by the growth of cloud, social, and mobile technologies. While these technology innovations present opportunity for emerging technology companies, innovation continues to place immense pressure on established product companies to reinvent themselves. Driven by competitive forces, growth ambitions, and the need to maintain profitability levels, this is forcing technology leaders to revisit strategy, test new approaches and enhance capabilities in all areas of their business.
It is a complex challenge as these are fundamental changes within the traditional High Tech business model. Changes include
Transition from on premise to subscription license
Innovation development and acquisition of technology solutions, delivery capabilities, and support
New pricing strategies
Profit and Loss profiles with a greater mix of service revenues comprised of attached, value-add services, and managed services
This multi-faceted challenge requires investment to develop the capabilities necessary to successfully compete and grow, while also demanding profitabile execution today, in order to afford investment spend for tomorrow.
High Tech's Professional Services Organizations
Embedded Professional Services organizations within High Technology face many of the same challenges as traditional Professional Services businesses. These challenges, however, are further compounded by product success and enablement priorities. Some of the most critical include:
Maximize resource utilization, productivity, and skill development
Obtain reliable visibility into projects, resources, and future demand to plan business activities and optimize results
Meet financial targets that allow for the investment needed to evolve offerings, capabilities, and new revenue streams
Improve delivery practices and use of intellectual property to consistently provide higher customer value and profit with less effort
Utilize lean, effective processes that provide appropriate controls, collaboration, and reduced administration
Be flexible and rapidly adapt to changes needed to capture new market opportunities and threats – including rapid assimilation of acquired organizations
Maturing your business processes and services are the key to addressing these challenges. Unified platform Cloud solutions provide the streamlined execution and analytics necessary to succeed in today's volatile, rapid paced business environment.
Business Outcomes Focus - Experience Placed into Execution
While we bring decades of experience with Oracle solutions, our greatest value as your partner is in ensuring your business attains its goals by utilizing the power of our Cloud solutions.
Our business value driven approach uses our Service Evolution Framework to understand and identify where the most significant gains can be made within your business.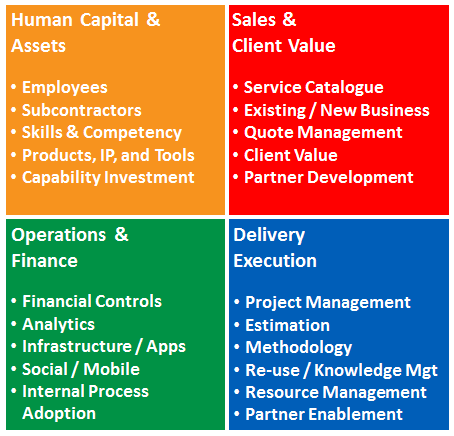 Project Partners Service Evolution Framework
Whether you need to select and implement new technology to run your business or modify existing technology and process, our approach starts with your business priorities and then addresses the underlying process, technology, and organizational capabilities required to meet your business goals. By working from desired results backwards to current state, we work with your organization to collaboratively define your business vision and the sequence of incremental changes that will help you achieve your goals.
Project Partners Services Resource Planning for Professional Services Organizations™
Most of the common process and analytics challenges your high technology business faces are already addressed through the base configuration of our Services Resource Planning for Professional Services Organizations.
Through alignment workshops, your stakeholders review "a day in the life" scenario of this best practice solution to understand how they would operate your business using the software. The design principle is to look at how your organization can leverage the built in best practices rather than re-design the solution. Any solution modifications that are done focus on tailoring needed to address your reporting and any extenuating requirements. The result of this approach is that design, configuration, and test cycles are significantly reduced.
As part of training and adoption plan, focus is placed on process execution, application use, and the priority Key Performance Indicators (KPI's) that will drive rapid return to your business such as project overruns, utilization, and sold bill rates.
If a full, unified platform solution is not appropriate for your organization's application footprint, Project Partners can work with your team to identify the appropriate Oracle Cloud applications and implementation roadmap to address existing gaps and complement existing application infrastructure.
Interested to see how your business can financially benefit from better visibility and automated processes? Use Project Partners' Performance Improvement Calculator.
Contact Us to learn how we can help your High Technology organization.