Professional Services
Regardless of industry served, all Professional Services organizations ("PSOs") operate in a continually changing business environment driven by economic, technology, and human capital forces, and share a number of common operational priorities.
Maximize resource utilization, productivity, and skill development
Obtain reliable visibility into projects, resources, and future demand to plan business activities and optimize results
Meet financial targets that allow for the investment needed to evolve offerings and develop new revenue streams
Improve delivery practices and use of intellectual property to consistently provide higher customer value and profit with less effort
Utilize lean, effective processes that provide appropriate controls, collaboration, and reduced administration
Be flexible and rapidly adapt to changes needed to capture new market opportunities and risks
Seasoned Professional Services executives know that maturing processes and disciplined execution are central to addressing these challenges.
To mature their operations and improve performance, many organizations are seeking unified platform Cloud solutions to provide the streamlined execution and analytics necessary to succeed in today's volatile, high paced business environment. Others continue to leverage the strength and flexibility of Oracle E-Business Suite Applications. Whichever path you are on, Project Partners has the solutions you need to evolve your operations.
Oracle Cloud for Professional Services Organizations
Project Partners Services Resource Planning for Professional Services Organizations™
Project Partners Services Resource Planning for Professional Services Organizations is a fixed price, rapid implementation approach for Oracle Cloud that provides delivers a rapid path to the Cloud with Oracle ERP, PPM and HCM applications. It delivers proven business processes and embedded analytics to PSOs.
Created from Project Partners' industry domain and Oracle technology expertise, this turnkey solution deploys an integrated, closed loop project and financial management platform using a template-driven approach for Professional Services firms. Project Partners leverages this solution to manage our own business. Technology advances are incorporated into our turnkey solution with regular frequency.
Learn more about this solution.
Oracle E-Business Suite for Professional Services Organizations
For over 20 years, Oracle E-Business Suite applications have been the most powerful solution for managing Professional Services organizations around the globe. These organizations range from the world's premier management consulting firm to the engineering firm that designed the Hoover Dam Bypass. If you are a Professional Services organization using Oracle E-Business Suite, Project Partners can help you get the maximum ROI from your investment in these powerful applications
Industry-Specific Extensions
Project Partners has developed many easily-upgraded extensions to the core functionality of our Professional Services customers' Project Portfolio Management systems. Some of these extensions include:
Labor Costing using Actual Labor Rates
Labor Costing using Average Actuals
Billing Retention Extension
Billing Extension for Fixed Fee plus Reimbursables
Labor Billing Extension for Day Rate Billing
Learn more about our Professional Services extensions.
Business Outcomes Focus - Experience Placed into Execution
While we bring decades of experience with Oracle solutions, our greatest value as your partner is in ensuring your business attains its goals by utilizing the power of our Cloud solutions.
Our business value driven approach uses our Service Evolution Framework to understand and identify where the most significant gains can be made within your business.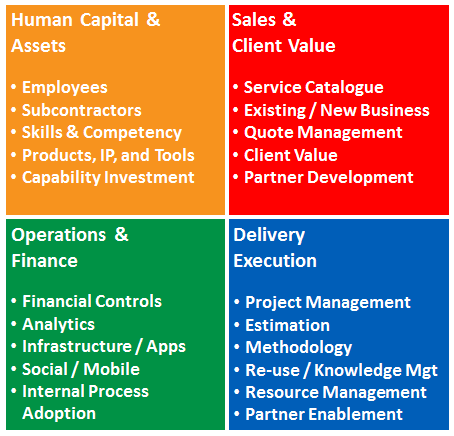 Project Partners Service Evolution Framework
Whether you need to select and implement new technology to run your business or modify existing technology and process, our approach starts with your business priorities and then addresses the underlying process, technology, and organizational capabilities required to meet your business goals. By working from desired results backwards to current state, we work with your organization to collaboratively define your business vision and the sequence of incremental changes that will help you achieve your goals.
Contact Us to learn how we can help your Professional Services organization.