OP3 for Oracle Instantis™
Integrates Oracle® Instantis EnterpriseTrack™
and Oracle E-Business Suite™ Projects Applications
OP3 for Oracle Instantis™ quickly and seamlessly integrates Oracle E-Business Suite Projects and Oracle Instantis EnterpriseTrack applications - faster, better and for less money than any other solution.
Oracle Instantis EnterpriseTrack (Instantis) is a leading cloud PPM solution used by IT and business process leaders to improve strategy execution and financial performance through more effective work and resource management. Oracle E-Business Suite Projects (Oracle Projects) is a powerful enterprise backbone for project financial management. OP3 for Oracle Instantis couples these applications into one seamless, cohesive solution, eliminating disparate systems and fractured information, and enabling business flows never before possible. Both project and financial managers can continue to use the application most appropriate for their function, with OP3 for Instantis keeping information synchronized between the two systems.
OP3 eliminates inefficient dual data entry between the two systems, utilizing Oracle's Public APIs, Primavera's Integration APIs, and the Oracle technology stack to establish a common data model where a single point of data entry is possible.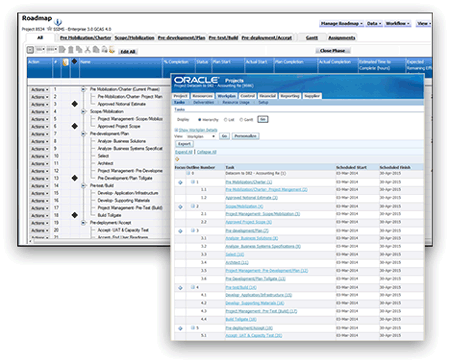 OP3 Integration Includes Structures (above) and Financial Period Data (below)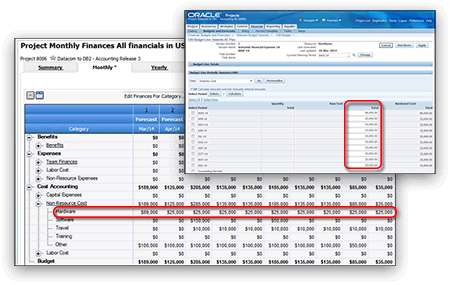 Benefits of OP3 for Oracle Instantis
Delivers seamless business flows across the lifecycle of your projects
Tightly integrated system ensures the same information is obtained and used throughout your organization
Facilitates better utilization of your HR resources
Continuously updated project progress ensures reporting accuracy and rapid identification of potential performance issues
Faster, better and far less expensive than custom-coded integration
Key Features
Integrates Instantis project schedules with Oracle Projects workplans or financial structures
Offers several options for project structure mapping from Primavera to Oracle
Synchronizes project dates (scheduled start and finish).
Updates task and assignment actual effort
Transfers HR People resources from Oracle Applcations to Instantis EnterpriseTrack
Integrates financial data from Instantis EnterpriseTrack with Financial Plans in Oracle Projects
Enforces Oracle business rules and security
OP3 Integrates HR Employee Data and Timecards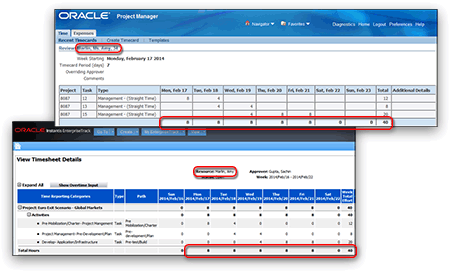 If you are interested in using Oracle E-Business Suite Projects Applications and Oracle Instantis EnterpriseTrack on an Oracle database, then OP3 for Oracle Instantis is right for you! Contact us to learn about OP3 and our expert implementation services. We'll have you live with this end-to-end integrated solution faster than anyone else.
For more detailed information on OP3: Contact Us