Project Partners Document Management Integration™
Easily Integrate Documents in Oracle® Applications with Microsoft® SharePoint™
Most organizations need the ability to easily collaborate and share information. Users of E-Business Suite Applications need to easily create document folders, file documents related to EBS applications (e.g. AP, AR, Purchasing, Projects) efficiently, and provide simple and quick document retrieval options for all stakeholders.
Project Partners Document Management Integration™ provides a simple and automated solution enabling Oracle E-Business Suite users the ability to:
Automatically create folders in Microsoft SharePoint - and to other Document Management Systems in future releases
Dynamically attach Microsoft SharePoint links to any business object in the Oracle E-Business Suite Applications that supports Oracle Applications Attachments (e.g. purchase requisitions, POs, supplier invoices, customer invoices, projects, tasks, etc.)
Retrieve documents from Oracle Forms, HTML, or directly from Microsoft SharePoint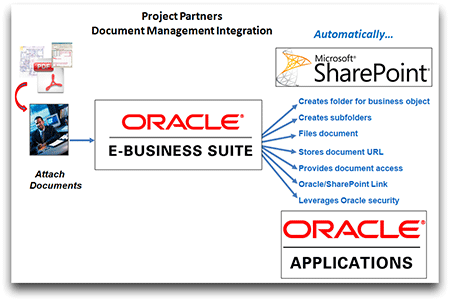 Project Partners Document Management Integration
(Click to see larger view)
Fast and Simple Document Management
Project Partners Document Management Integration easily creates folders and subfolders in Microsoft SharePoint, allows you to dynamically move attached documents in Oracle to those folders and automatically replaces the attached document in Oracle with a link to its new location in SharePoint. With a simple step, the integration between your documents in SharePoint and your attachments in Oracle is automatically complete based on the document standards you have implemented within your organization, thereby expediting the document collaboration process, improving user productivity, promoting work sharing and reducing filing and naming errors.
Benefits of Project Partners Document Management Integration
Improves user productivity by saving time and reducing errors
Easily enforces your corporate standards for E-Business Suite document management
Promotes E-Business Suite document collaboration
Leverages Oracle role or responsibility based security
Simple and flexible setup and use
Key Features
Dynamic folder creation in Microsoft SharePoint
Automatic folder naming and document filing
Dynamic SharePoint link creation in Oracle E-Business Suite
Embedded use of SharePoint auto-versioning and collaboration features
Easy document access via Oracle Forms and HTML
Support for large document volume implementations
Easily link different SharePoint servers to various operating units or organizations
Secure project and document access via enforcement of Oracle's business and security rules
For more detailed information on Project Partners Document Management Integration: Contact Us