Project Partners Services Resource Planning for Professional Services Organizations™
Rapid Path to the Cloud
Project Partners Services Resource Planning (SRP) for Professional Services Organizations is a fixed price, rapid implementation solution for Oracle Cloud that provides proven business processes and embedded analytics to Professional Services Organizations (PSOs).
Combining Oracle Cloud applications with Project Partners' technology and Service industry expertise, this template based industry solution provides PSO's the tools and unified platform required to empower them to attain their next level of maturity, performance and scale. Because it is a turnkey solution, customers will be up and live in only a few months.
Project Partners Services Resource Planning for Professional Services Organizations deploys a cohesive, project centric set of operational and financial business processes, supporting workflows, and role based analytics. This empowers your Delivery, Finance, and Sales teams via timely information, cross-departmental interactions and automated administration.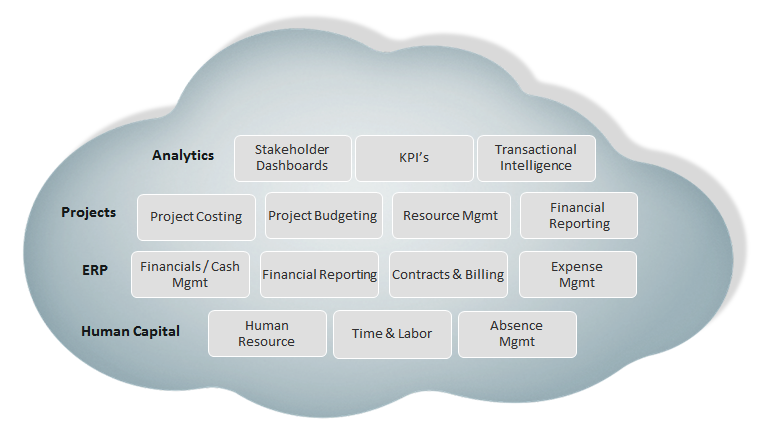 Oracle Cloud Applications Included in Our Services Resource Planning for Professional Services Organizations
Highlights of Project Partners Services Resource Planning for Professional Services Organizations
Standard, best practice process design that can be tailored for business-specific structure
Major lifecycle processes include Project Creation to Cash and Financial Record to Report. Notable supporting processes include Manage and Estimate Project Opportunity, Define Contract and Project, Define Plan and Budget, Develop Project Staffing, Capture Time and Expense, Invoice and Recognize Revenue, Update Project Forecast.
Role based dashboard and reporting including views for priority metrics/KPI's such as project margin, project overrun, project on time completion, resource utilization, receivables / payables aging
Template based setup and processing for services and product offerings
Workflow and email triggers to facilitate the most critical and timely process flows including Project Creation and Close, Contract Creation and Amendment, Project Budget/Forecasting, and Time/Expense Approvals
Proposal Estimate creation and revisions
Subcontractor management and financial processing
Project sourced accounting transactions reducing financial administration
Automated and streamlined financial close process
Project financials overhead burdening of labor for management reporting of gross and net project margin
The result is greater revenue, profit, cash flow, client satisfaction, and employee satisfaction. And it's all driven by real time actionable insight, greater user experience, higher data quality and accuracy, and facilitated process execution.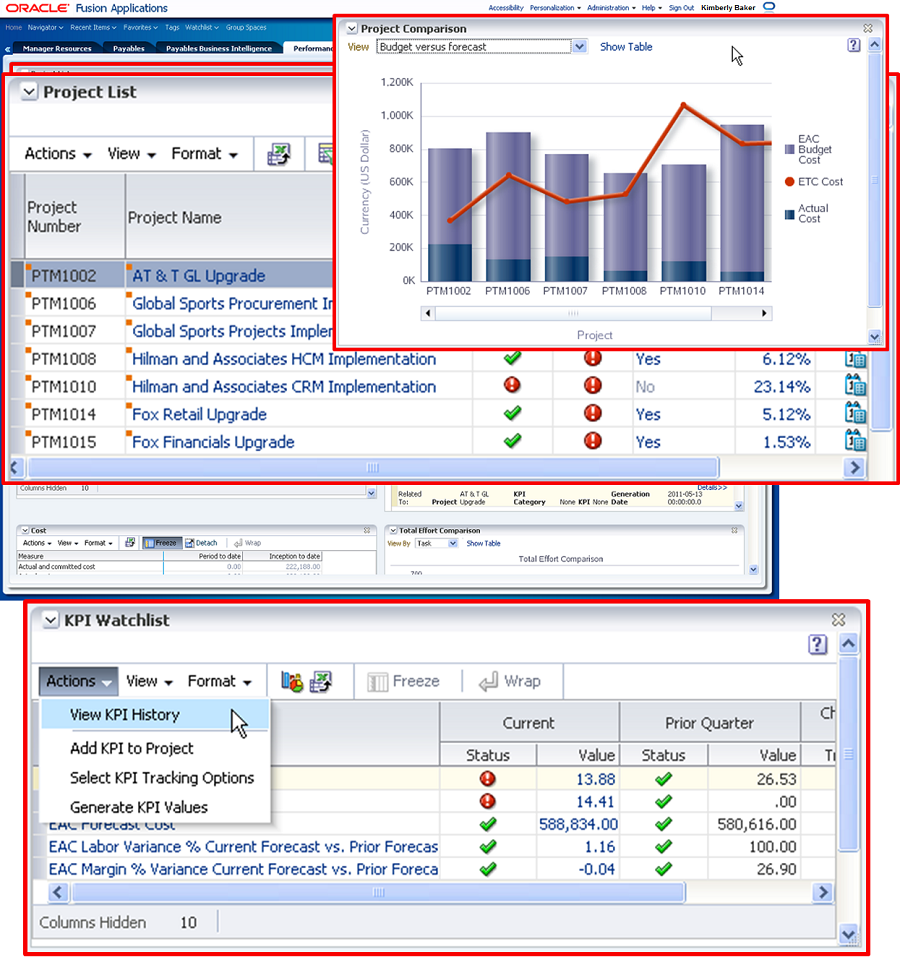 Key Performance Indicators in Oracle Cloud PPM
Business Outcomes Focus - Experience Placed into Execution
While we bring decades of experience with Oracle solutions, our greatest value as your partner is in ensuring your business attains its goals by utilizing the power of our Cloud solutions.
Our business value driven approach uses our Service Evolution Framework to understand and identify where the most significant gains can be made within your business.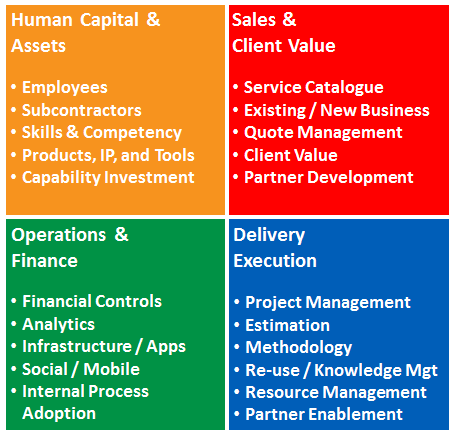 Project Partners Service Evolution Framework
Many of the common challenges your business faces are already addressed through the automated processes and analytics of Project Partners Services Resource Planning for Professional Services Organizations.
Rather than perform bottom up discovery, we assess your organization and business priorities to align them with the solution's process and analytics model. While you may have some unique current practices or requirements, we rationalize these to limit design changes to only those that are truly necessary.
As part of the training and adoption plan, focus is placed on process execution, application use, and the priority Key Performance Indicators (KPI's) that will drive rapid return to your business such as project overruns, utilization, and sold bill rates.
Key Features
Rapid design and deployment – 13 to 17 weeks
Ready to use templates
Business Process review and guidance on best practices
Conference Room Pilot
User Acceptance test
Workflow approvals for project/contract setup and invoice approval
Project Partners Services Operations Report package – core operational and project financial reporting
Two pro-forma customer invoice formats with backup details
Solution focused administrative training and customized end user training material with a focus on business processes
Migration support from legacy systems to Oracle Cloud
Cutover assistance
Post go-live support
How Much Can Services Resource Planning for Professional Services Organizations Help You?
Interested to see how your business can benefit from better visibility and automated processes? Use Project Partners' Service Performance Improvement Calculator and find out.
For more detailed information on on Project Partners Services Resource Planning for Professional Services Organizations: Contact Us