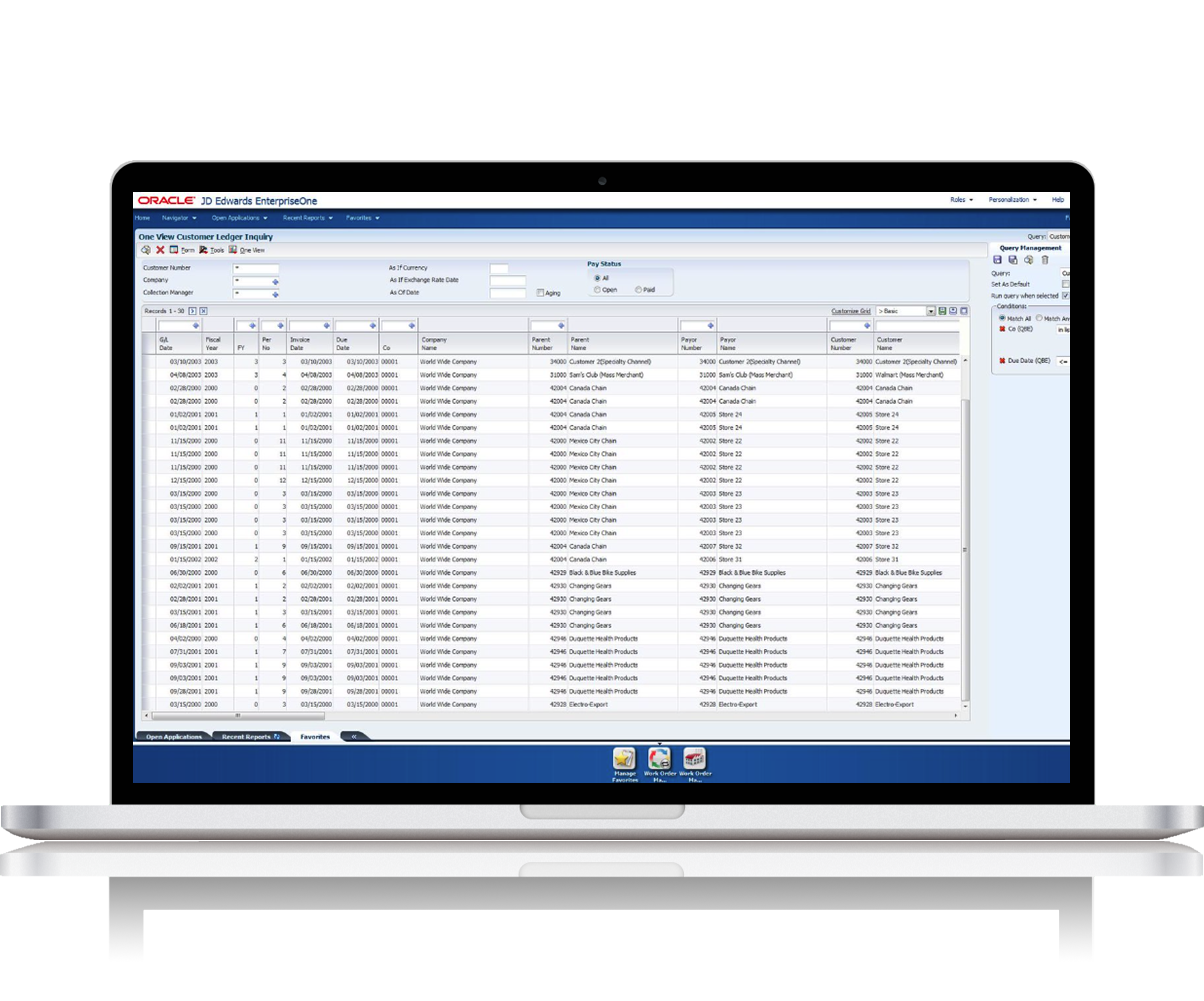 Transform the User Experience
JD Edwards EnterpriseOne (JDE) is a comprehensive suite of enterprise resource planning (ERP) software solutions. Designed to help businesses of all sizes streamline their operations and enhance productivity, JDE covers various aspects of business management, from financials and human resources to supply chain management and manufacturing.
No matter the direction you choose, whether it's optimizing on-premise essentials, expanding native functionality, executing seamless Cloud (SaaS or PaaS) migrations, or navigating the complexities of hybrid models, your business can fully engage in critical project operations while embracing a confident future in today's dynamic marketplace.
Oracle JD Edwards
Services
Maximize your investments with a lasting design.
PREPARE FOR THE FUTURE
Strategize your migration
to Oracle Cloud ERP/PPM.
Why Migrate to Oracle Cloud ERP?
Source of Truth
It offers a cost-effective, data-consistent single source of truth and enables flexible deployment across your enterprise.
Modern Platform
It offers automatic quarterly updates, a contemporary user interface for the modern user, and real-time reporting.
Built-In Intelligence
Boost efficiency with artificial intelligence (AI), machine learning, digital assistants, and prescriptive analytics.
Powerful Tools
Automate the most time-consuming business processes by freeing up to 96% of your teams' strategic, manual tasks.
The innovative leader of project operations & finance.
While 2034 may appear distant, a decade can slip by. It's crucial to take proactive steps now by evaluating your existing Oracle JDE environment. Ensure that you're operating on the latest release, providing you with access to new features and security protocols while retaining premier support. However, you should start considering your preparations for migrating to the Cloud or Oracle Cloud ERP/PPM.
Primary advantages of migrating:
Significantly lower total cost of ownership (TCO).

On-prem ERP applications will soon become legacy.

High scalability for ease in business evolution.

Real-time business insights and easy accessibility.

Automatic updates: features, patches, and compliance.

Robust security measures to protect sensitive data.

Improved team collaboration from anywhere, anytime.

Engineered to support complex integrations.