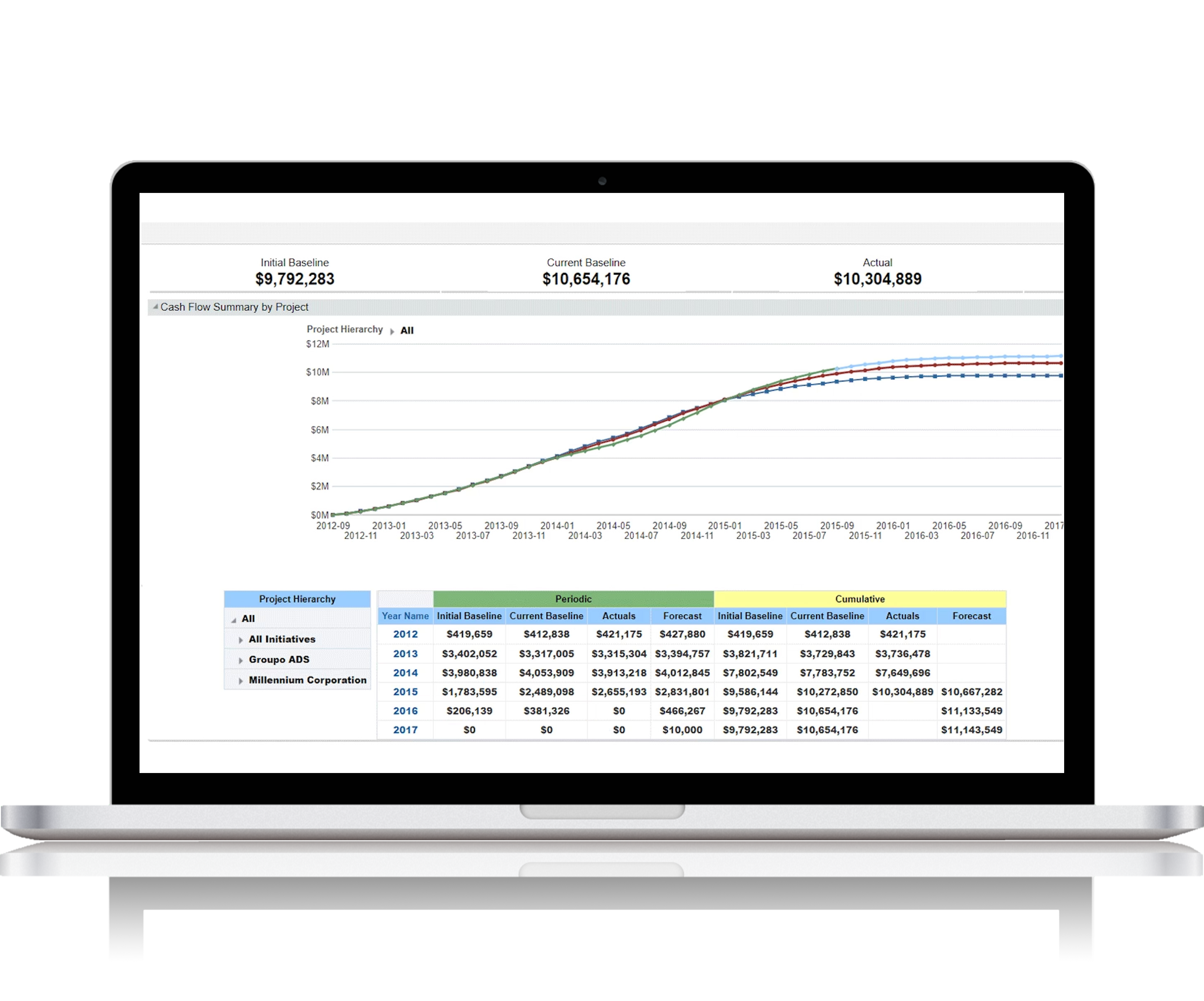 Better Understand Project Performance & Trends
With Primavera Analytics, gain invaluable insights into your projects and portfolios managed by your Primavera P6 Enterprise Project Portfolio Planning and Primavera Unifier applications, enabling you to make data-driven decisions and drive project success.
This enterprise-wide business intelligence portal empowers project managers, contractors, and stakeholders to effortlessly analyze project data, spot trends, and anticipate challenges. With intuitive dashboards and customizable reporting tools, you can gain a comprehensive view of your project's performance, ensuring timely deliveries and cost-effective execution.
Oracle Primavera Analytics
Services
Ensure your technologies strengthen your business AND your projects.
WHY PRIMAVERA Analytics
Optimize Project Performance & Minimize Risks
Data Visualization
Transform complex project data into easy-to-understand visual representations, making it simple to identify bottlenecks and opportunities for improvement.
Customizable Dashboards
Gain visibility into project health through interactive and configurable dashboards. Monitor key performance indicators, milestones, costs, and schedule at a glance.
Predictive Analytics
Leverage predictive modeling to identify risks, delays, and opportunities using historical data and advanced algorithms before they impact your timeline or budget.
Real-Time Updates
Stay up-to-date with project data and foster collaboration across teams. Share insights and reports for transparency and alignment throughout the project lifecycle.
Ad Hoc Reporting
Create custom reports tailored to your project's unique requirements. Generate on-demand reports for stakeholders, regulators, and internal teams to ensure clear communication.
Centralized Repository
Aggregate data from diverse sources, including Primavera P6 EPPM, Primavera Unifier, and other external systems, creating a unified repository for all project-related information.
Metropolitan atlanta transit authority (MARTA)
Establishes a single source of truth for
budgets, actuals, and contracts
with Primavera Analytics and Unifier.