OP3™
Integrates Oracle® Primavera™ and Oracle E-Business Suite™ Projects Applications
Project Partners' classic OP3™ product, in production use since 1999, delivers integration for all supported releases of Oracle Primavera and Oracle E-Business Suite Projects applications
OP3™ delivers seamless, bi-directional integration between the Oracle E-Business Suite Projects applications and Primavera enterprise applications - faster, better and for less money than any other solution. Project managers and financial analysts can enjoy a complete best-of-breed Project Management solution.
If you use Oracle E-Business Suite applications and Oracle Primavera P6 EPPM applications with Oracle Public APIs, then Project Partners' classic OP3 product is the right fit for you. Continue reading this page to find screenshots, demos and collateral.
What OP3 Delivers for You
Capitalizing on the project management tools within Primavera and simultaneously enforcing the necessary business and accounting rules within Oracle Projects, OP3 enables business flows not otherwise possible with these enterprise applications.
OP3 eliminates inefficient dual data entry between the two systems, utilizing Oracle's Public APIs (formerly Oracle Activity Management Gateway), Primavera's Integration APIs, and the Oracle technology stack to establish a common data model where a single point of data entry is possible. If that is not enough, OP3 also supplies many client extensions that allow project managers to tailor the solution to meet their specific project needs.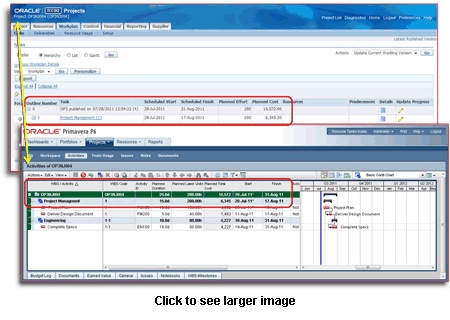 OP3 Integration Includes Structures (above) and Budgets (below)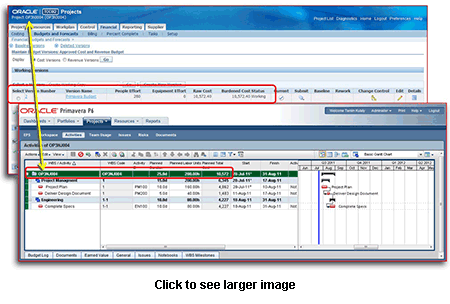 Benefits of OP3 Release 3
Delivers seamless business flows across the lifecycle of your projects
Tightly integrated system ensures the same information is obtained and used throughout your organization
Continuously updated project progress and cost actuals ensures reporting accuracy and rapid identification of potential performance issues
Faster, better and far less expensive than custom-coded integration
Key Features
Robust integration with Oracle Projects' workplans, including work breakdown structures, resource assignments and workplan costs
Tight integration with Oracle Projects financial plans, including creation of budgets and forecasts in Oracle Projects from Primavera project plans
Interfacing of Oracle Projects actual quantities and costs
Transfer of task and resource assignment progress from Primavera to Oracle Projects, which can be used for generating Earned Value and other reports
Initiation of resource demand in Primavera, and resource fulfillment in Oracle Projects
Enforces Oracle business rules and security
OP3 In Action at the US Project Contract Office
Gulf Region Division
"Our client, the United States' Project Contract Office, Gulf Region Division, uses Project Partners' OP3 as part of the IT system built to manage $18 Billion US in construction and non-construction projects. We really like the fact that OP3 delivers bi-directional integration while enforcing the built-in error checking and enterprise-wide checks and balances of Primavera and Oracle Projects applications. The integration that OP3 delivers is tight, reliable and accurate, saving us what would have been a huge amount of cost and effort in trying to custom-code this integration. Also, whenever Oracle or Primavera issue a patch or point release, Project Partners certifies OP3 with that patch, so it's not our headache. OP3 enables project business flows that would not otherwise be possible using the Oracle Projects and Primavera systems separately. These attributes of OP3 have increased our efficiency and productivity. OP3 is essential to the user of both Oracle Projects and Primavera applications who want to maximize and realize the power of both applications – simply put, it's awesome!"
Patricia Bowyer, President
Projects/Applications Resources Group, Inc.
OP3 in Action at the U.S. Army Corps of Engineers
For the U.S Army Corps of Engineers, OP3 reduces project cost overruns and optimizes resource scheduling.
"Oracle Projects provides us with exceptional accounting, costing and billing functionality, but it lacks the activity and resource scheduling capabilities we require to effectively manage our many projects. By using OP3 to link Oracle Projects and Primavera Enterprise, we are able to quickly transfer information back and forth between applications. This provides us with reliable and accurate data in both systems without the cost of double data entry. As a result of this integration, we increase the visibility of projects throughout our organization and improve our ability to effectively and efficiently manage large projects."
Arthur Martin
U.S. Army Corps of Engineers
For more detailed information on OP3: Contact Us