OP3 for Primavera Unifier™
Integrates Oracle® Primavera Unifier™
with Oracle E-Business Suite™ Projects, Purchasing, and Payables Applications
OP3 for Primavera Unifier™ quickly and seamlessly integrates Oracle E-Business Suite and Primavera Unifier applications - faster, better and for less money than any other solution.
Oracle's Primavera Unifier is the best-in-class project lifecycle management solution for capital planning, project delivery, cost control and real estate management. Oracle E-Business Suite® applications provide a powerful enterprise backbone for project financials and procurement management. OP3 for Primavera Unifier couples these applications into one seamless, cohesive solution, eliminating disparate systems and fractured information, and enabling business flows that improve productivity. Project, purchasing and financial managers can continue to use the application most appropriate for their function, with OP3 keeping information synchronized between the systems.
Synchronize Project, Financial and Procurement Management
OP3 for Primavera Unifier provides a continual update of key information between Oracle Primavera Unifier and Oracle E-Business Suite Projects, Purchasing and Payables modules, sourcing and then sharing this data appropriately. Data can be synchronized automatically, facilitating the use of Unifier and E-Business Suite (EBS) systems to leverage the power of each individual application. Project and finance managers use Primavera Unifier for project approval, purchasing requests, PO and contract changes, and payment approvals. Project plans are synchronized with Oracle Projects and Oracle Purchasing receives the PO/Contract related information from Primavera Unifier.
Purchasing and Payables Integration
Purchase Orders and Contracts are initiated using business processes in Primavera Unifier and synchronized to the Oracle Purchasing module as purchase orders with the related project and cost code information. Vendor information is maintained in Oracle E-Business Suite and synchronized with Unifier to enable issuing Purchase Orders and Invoices to those vendors in Unifier. Invoices are created in Unifier and transferred to Oracle Payables. Upon approval in Payables, payment confirmation details are transferred back to Unifier to complete the payment lifecycle process.
Contracts and Purchase Orders in Unifier are Integrated with Oracle Purchasing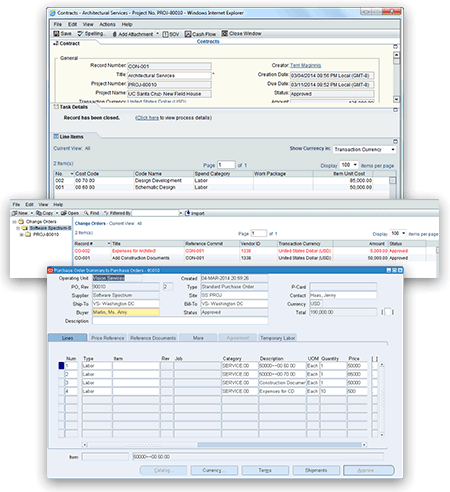 Click for larger image.
Benefits of OP3 for Primavera Unifier
Delivers seamless business flows across the lifecycle of your projects
Facilitates optimal management of your contract lifecycles
Tightly integrated system ensures the same information is obtained and used throughout your organization
Faster, better and far less expensive than custom-coded integration
Key Features
Plan projects and budgets in Unifier and the cost account hierarchy is transferred as tasks to Oracle Projects
Budgets and budget changes are recorded in Unifier and transferred to Oracle Projects
Purchase orders and contracts are initiated using Unifier business processes and synchronized to Oracle Purchasing
Vendor information in Oracle Applcations is shared with Primavera Unifier
Invoices, approval information and payment confirmations are integrated to manage the payment lifecycle process
Enforces Oracle business rules and security
OP3 Integrates Unifier Cost Breakdown Structures with Oracle Projects Financial Plans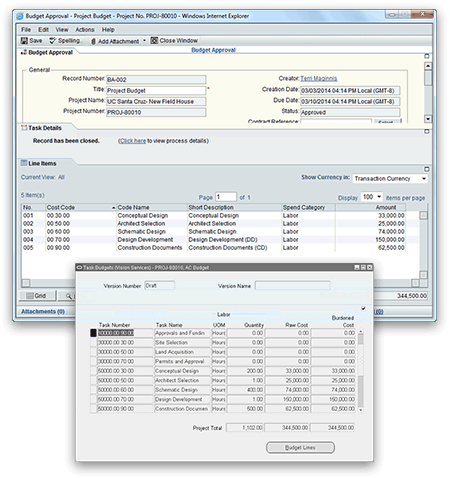 Click for larger image.
If you are interested in using Oracle E-Business Suite applications and Primavera Unifier on an Oracle database, then OP3 for Primavera Unifier is right for you! Contact us to learn about OP3 and our expert implementation services. We'll have you live with this end-to-end integrated solution faster than anyone else.
For more detailed information on OP3: Contact Us