Project Partners User Interface Applications™
Role-Based Reporting via a Microsoft® Excel Interface™
Project Partners User Interface Applications enable Oracle® E-Business Suite users to utilize Microsoft® Excel as a concise and user-friendly interface to Oracle Projects for many functions, including reporting.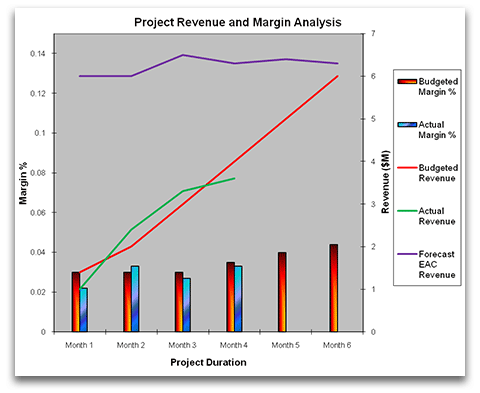 Actionable information is delivered in graphical and table formats
Pre-Packaged Reporting Workbooks
The Project Manager Reporting module in Project Partners User Interface Applications includes eight worksheets that address the parameters that Project Managers need to measure to ensure project success. Users can drill down from the project level to tasks and transactions.

A complete Gantt view of the project schedule or Workplan, along with original and current baseline and forecast dates along with percent complete information is displayed on the Schedule worksheet.

Integration Leverages Oracle Applications Technology and Security
Project Partners User Interface Applications (UI-Apps) are certified with the Oracle E-Business Suite Applications R11.5 and R12 technology stacks and uses the standard Oracle Applications security model for authentication and security.
Benefits of Project Partners Reporting
Project manager productivity is improved by minimizing screen navigation; up to 20 Oracle screens are replaced with one role-based Excel worksheet
Project managers can work in traditional online mode or can work off-line and synch with Oracle when next connected via the internet
Quick implementation in four weeks or less means less business disruption
Minimal training is required, resulting in immediate user adoption
Key Features
Role-based solution oriented to project managers, showing just what they want to see
The ability to view multiple aspects of projects in one workbook
Automatic validation of key data from Oracle stored in hidden sheets and available for use whether working online or offline
Worksheets with built-in business logic, e.g. data calculation and manipulation
Easy configurability for tailoring worksheets to different end-user communities
Learn more about Project Manager Reporting in Project Partners User Interface Applications