Oracle Primavera Cloud Service
Plan Better with Oracle Primavera Cloud
The Oracle Construction and Engineering Primavera Cloud enables you to evaluate, prioritize, plan, manage, and execute projects and programs via an enterprise project and portfolio management solution built on Oracle technology. Oracle Primavera Cloud Service is a complete, 100% cloud-first, user-optimized project portfolio management product (PPM), success platform for all stages of the project lifecycle that manages the full range of simple to complex projects of all types.

Oracle Primavera Cloud empowers executives, project managers, and field professionals to deliver projects - from inception through completion - more efficiently, consistently, and with a much greater confidence. Project managers will have the ability to complete projects on-time and within budget with built-in reporting dashboards and performance visualization for prioritizing, planning, managing, and evaluating projects and resources. Portfolio planners, executives, stakeholders and project managers have real-time visibility into project cost, schedule, and risk. Oracle Primavera Cloud enables teams to prioritize and select projects for long-term planning efforts. The solution provides comprehensive long-range tools for capital planning and budget approval across project portfolios.
Oracle Primavera Cloud optimizes and integrates critical processes, scope, schedule, cost data, and documents across the organization. The application has an intuitive user interface that can be tailored to your business to increase adoption, minimize training, and deliver rapid time to value.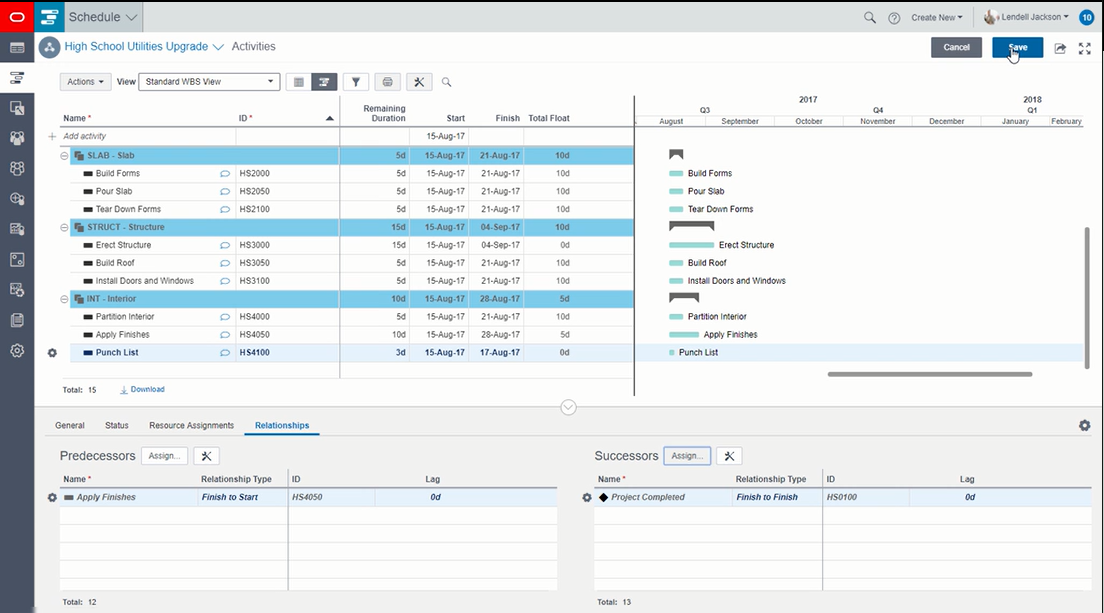 Features and Benefits of Oracle Primavera Cloud

Integrated project and portfolio management
Create multiple portfolios to analyze projects and proposals. Analyze project portfolio activity, status and customer success metrics. Share performance improvement results with key business stakeholders.
Flexible workflow and collaboration
In-built, configurable forms and workflow processes to address simple and complex business needs. Flexible collaboration system to improve coordination between project members.
Integrated platform
Deliver scope, schedule and cost data on a single platform to reduce complexity. Real-time insight into portfolio activity, status, and metrics KPIs to improve decision making across projects and proposals.

100% cloud-based solution
Web-based application with zero client-side software. Leverage leading database and middleware technology. High performance, scalable, extensible and reliable system. Intuitive and flexible interface to save time and money and accelerate user adoption.
Mobility
Purpose built mobile application leveraging device capabilities and providing a rich, targeted user interface and experience. Offline capability to access data on the go. In-built notifications and discussion capabilities to improve collaboration.
Business Entry
Benefit from low cost of entry, rapid time to value, high performance, and extensibility.
Oracle Primavera Cloud Data Sheet
Oracle Primavera Cloud Implementation Services
Project Partners is an authorized reseller of Oracle Construction and Engineering Primavera Cloud. Our Primavera specialists can work with you to tailor the solution to meet your business needs. We can assist you with the design, implementation, and operational support of your Oracle Primavera deployment.
Let our experts take your Project Portfolio Management organization to the cloud.