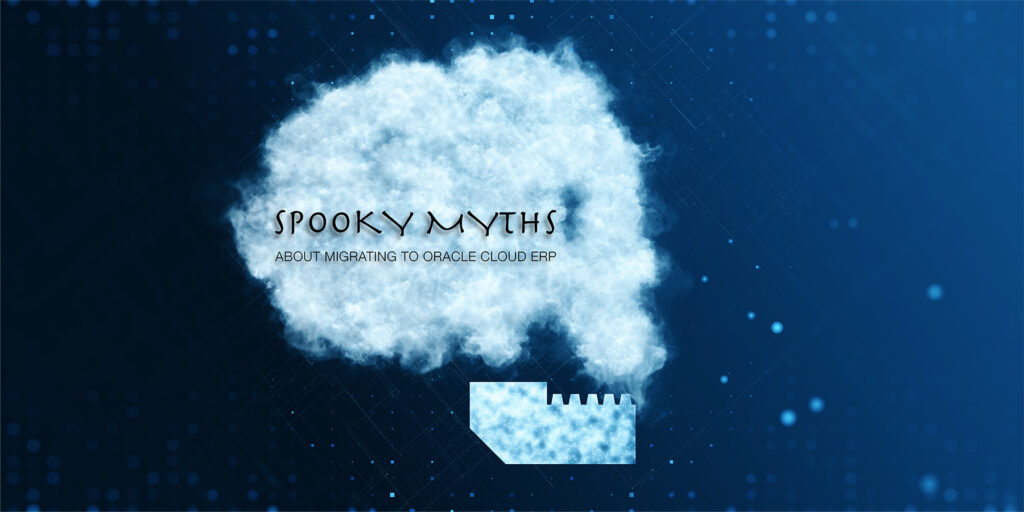 Halloween is a spooktacular season to uncover and myth-bust scary tech things. While Monster Mash is playing on repeat, there are a few other things we keep hearing repeatedly: migrating Oracle ERP | PPM applications to the Cloud is the future. Ultimately, every project-driven organization is looking to veer away from homegrown applications or antiquated spreadsheets and shared drives – even the old Oracle EBS applications to Oracle Cloud ERP. The shift is happening across organizations, from small to multi-billion-dollar corporations. But what's holding companies back from quickly leaping to adopt the Cloud as their project foundation? The shift can seem spooky…
We've compiled the nightmare situations our clients have dreamed up:
1) Is the product ready?
Or, we have so many customizations… how can a SaaS product be tailored to our needs? You are not alone. Most customers think their processes and requirements are so specialized that the Cloud product needs modifications to help handle what they need to do from project conceptualization to completion. Ultimately, the unknown can be scary. So, to eliminate any lingering functionality questions, we recommend a deep-dive assessment in advance to understand your company's unique processes and identify potential functionality gaps between your existing applications and the functionalities offered in the Cloud.
Each industry is unique, posing various procedural requirements, process standardization, security protocols, and regulations. Since the Cloud is best-practice-based, it means that, more than likely, the deployed practice is outside what Oracle has determined as the best practice. Once identified, potential gaps are rectified by reviewing Business Processes against Best Practices and can apply configurations or customizations based on your unique requirement.
2) We need a quick win – is migrating to Oracle Cloud ERP a massive undertaking?
Upon the result of an initial assessment, there are several ways to approach Cloud deployments to aid your organization in getting 'quick wins.'
Phased Rollout by Product Function: the solution is incrementally implemented by each application, gradually introducing the new Cloud applications.
Phased Rollout by Business Unit: the solution is incrementally implemented for each business unit, gradually introducing the new Cloud applications to departments.
Big Bang: the entire solution is implemented all at once, resulting in an immediate change to processes across all departments.
But remember, an investment in Oracle Fusion Applications is a long-term investment. The best way to determine which implementation strategy is best for your project-driven organization is to assess your current environment and plan for your project team's optimal future state. No matter which option you choose, it is essential that your SI partner looks long-term to reduce the risk of spending unnecessary time and money to rework, enhance, or re-implement your solutions.
3) Should I be concerned about the level of resources and time commitment?
In a word, no. The key to minimizing the number of resources and time required to move to the Cloud is to bring in an experienced implementation partner with the right in-house resources to deliver a successful Oracle Cloud ERP implementation. After conducting a full assessment with your business leaders and project team members, your implementation team should fully understand the roadmap for successful Cloud Apps implementation. Then, with touch-base meetings and a POC for the critical points of the implementation project, your SI should handle the rest.
4) Will Oracle's "Quarterly Patching" approach burden our teams because of the maintenance and support required by the Oracle Fusion Applications platform?
The benefits of moving to Cloud Apps are improved automation, optimized performance, better service for your organization's long-term plans… the list goes on! Oracle's updates for their Cloud Fusion Apps keep your systems up-to-date with the latest enhancements, whether functionality or security. Coming from the people who lived and breathed in Oracle's atmosphere, we understand that not all implementation and update schedules are the same.
Ensuring your applications are ready for the latest, upcoming Oracle functionalities offered in each release is critical, but can be daunting, so leave Managed Application Services to the experts! At Project Partners, we offer quarterly update support that reviews your organization's transcripts one week before the scheduled patch. In addition, tests of your environment are conducted against the updates to help ensure that your applications are prepared and ready to go for the latest feature functionalities that Oracle provides.
5) Where do we even start?
When in doubt, start with an assessment. Project Partners' assessment approach delivers an in-depth cross-functional review of business processes and technology. We help you align your project management technologies with your business goals to improve operations while maximizing project performance.
Start a conversation with one of our representatives today: