Earned Value Management (EVM) has existed for at least 50 years. In project-driven organizations, it is an essential measure of project performance and part of most project management policies. However, one of the significant barriers to the success of an EVM system is the notion that EVM is only valid for large complex projects.
I used to think that as well, but over the past 4 or 5 years have seen, that while not perfect, it can be helpful on smaller, less complex projects and, when recognized as a Key Performance Indicator (KPI), can help organizations to take corrective action earlier in the project to prevent costly overruns in schedule and budget.
EVM History
There is no shortage of information about using earned value management (EVM) techniques to help organizations measure and control project performance. Every project management training organization, conference, and publication includes some discussion of EVM. Although elements of EVM existed in early 20th-century industrial engineering, it was in 1967 that one of the first organizations to formalize the idea, the National Defense Industrial Association (NDIA), published their EVM policy to help better manage increasingly complex defense programs.
Since then, hundreds of guides and frameworks have been published to help individuals and organizations understand and implement EVM for their projects. Many organizations have made it part of their PMO (Project Management Office) policy, but often the measures are either ignored or 'hidden' from reports. Like so many things that are good for us, it is sometimes too difficult to implement.
EVM Barriers to Adoption
Organizations that resist using EVM to manage their projects may consider the discipline required to be 'overkill' and too difficult to implement for their smaller, less complex projects. I used to agree with that position, but over the past few years, I have changed my mind and have seen where organizations can benefit from even the most basic implementation of EVM. My experience is primarily associated with using Oracle Primavera P6 EPPM to generate earned value performance indicators, and these are the examples that will follow, but the same principles can be applied using other project management software.
When implemented and followed, EVM is a valuable tool for organizations to better understand and control their projects. When project managers and project sponsors pay attention to EVM KPIs, downward project trends can be addressed sooner in the project, and corrective actions can be taken to prevent projects from spiraling out of control.
The Value Proposition for EVM Adoption
Many organizations use a standard project status report template that relies on the subjective 'user-entered' Red-Yellow-Green indicators, narrative updates, and non-data-driven information. Something like this:
| | | | | | |
| --- | --- | --- | --- | --- | --- |
| Project Name | PROJECT A | Start Date | 1/1/22 | Finish Date | 6/30/22 |
| Budget | $100,000 | Cost to Date | $45,000 | Remaining Budget | $55,000 |
| Scope | GREEN | Schedule | YELLOW | Budget | YELLOW |
Followed by a list of bullets:
This is what we did
This is what we plan to do next
These are the issues
These are the risks
This type of reporting does not provide any sense of planned vs. actual or projected completion within the schedule or budget. But this is still typical in less mature project-based organizations. These are not data-driven project management techniques. This approach relies on the project manager to tell the story. Often, schedules are too high-level (or provide too much detail) and are only used at the start of the project. If they are cost-loaded, they are not reliable, project managers do not track the baseline, and each month's schedules and forecasts are updated without comparison to what was planned.
Data-driven metrics will remove the subjective input from project managers and allow the data to tell the story.
A Simplified Approach to EVM
While the NDIA EIA 748 EVM Intent Guide provides a detailed description of the 32 guidelines in non-technical terms, a more simplified list is helpful for organizations starting their EVM journey.
Well-defined project scope – Work Breakdown Structure (WBS)
Clearly defined activities and schedule logic – established baseline.
Resource/cost loading of activities – 'good estimates' – established baseline
Method to capture actual costs on the planned work – timely and accurate
Method to capture schedule progress and % complete on the planned work – measurable progress
Use the results as 'indicators' and adjust accordingly when there are downward trends in performance – advance notice, ability to adjust, and time to adjust.
P6 EPPM Earned Value Management

Project Partners recently spoke at and participated at Project Controls Expo USA 2022, and we discovered that Primavera P6 is still holding strong in the Project Controls space. In most to all presentations at the expo, P6 was referenced as the go-to solution.
Real-World Challenges to EVM Adoption & Incremental Improvements
Over the past few years, Project Partners has worked with various project-based organizations to include EVM in their Oracle P6 EPPM implementation plan. Each had different maturity levels with their project schedules and control processes; in two companies, the work was managed from engineering through construction, and in the other two cases, the companies were delivering 'engineer to order' manufacturing products. Each organization struggled in some manner with EVM implementation but, in time, was able to start using the resulting metrics to help better control their projects.
Start a conversation with one of our specialists to learn more about how we can help your organization implement EVM best practices.
About the Author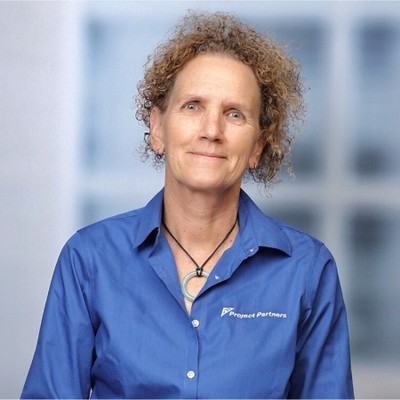 Terri Maginnis is the Practice Director in the Project Partners Primavera / PPM Division. She has 30+ years of project management, scheduling, business process improvement, and solution architect experience that spans multiple sectors, including AEC, power/utilities, information technology, transportation, health care, DOD/military construction, and higher education. Terri began her project management career as a U. S. Navy Civil Engineer Corps officer and started using Primavera as a general contractor in 1989.
In 1998, she established an Information Technology Project Management PMO for the California Public Employees Retirement System (CalPERS), working on the corporate database project, a custom CRM rollout, and several investment office projects. She also set up an ITPMO for Hewlett Packard's ProCurve Networking Division's IT organization. She began Primavera consulting in 2006 and has designed, implemented, and trained solutions for 100+ companies in the use of Primavera products for business process improvement.