It's true. Oracle Fusion Cloud ERP has been labeled the solution that will change how organizations run their business. However, it has been recently trending that Cloud ERP is the fix-all for project-centric organizations. The capabilities of Oracle Cloud ERP are endless and enable many business-driven processes essential for running smooth operations.
Consider this:
Your ERP is the central nervous system of the organization; it connects to separate systems that require synchronicity between teams and an active flow of real-time data. As part of the central nervous system, if any key organizational elements become disconnected or experience an interruption, it then disrupts how other essential systems run. For project-based organizations, that includes your project's systems.
In short: if your project systems act separately from your ERP, your enterprise doesn't function in unison.
So the question remains, are organizations experiencing a disconnect between Oracle Cloud ERP and other Project Systems?
A Recent Poll
As stated in our last blog, The Most Common Project Management Challenge, a lack of communication between teams is commonly due to disparate systems – and is what we consider to be the biggest challenge that project-centric organizations face today. Though ERPs drive visibility across your day-to-day operations, they do not provide the project-based interconnectivity, access, and visibility needed to manage and execute project operations.
According to a recent poll conducted on LinkedIn, we asked our followers: A failure to communicate and share up-to-date project information between disparate systems and teams is still the Achilles' heel of most projects, even with Cloud ERP in place. What is the biggest downfall of disparate project technologies? We chose four key issues commonly experienced in today's ERP environments, and here's what you had to say: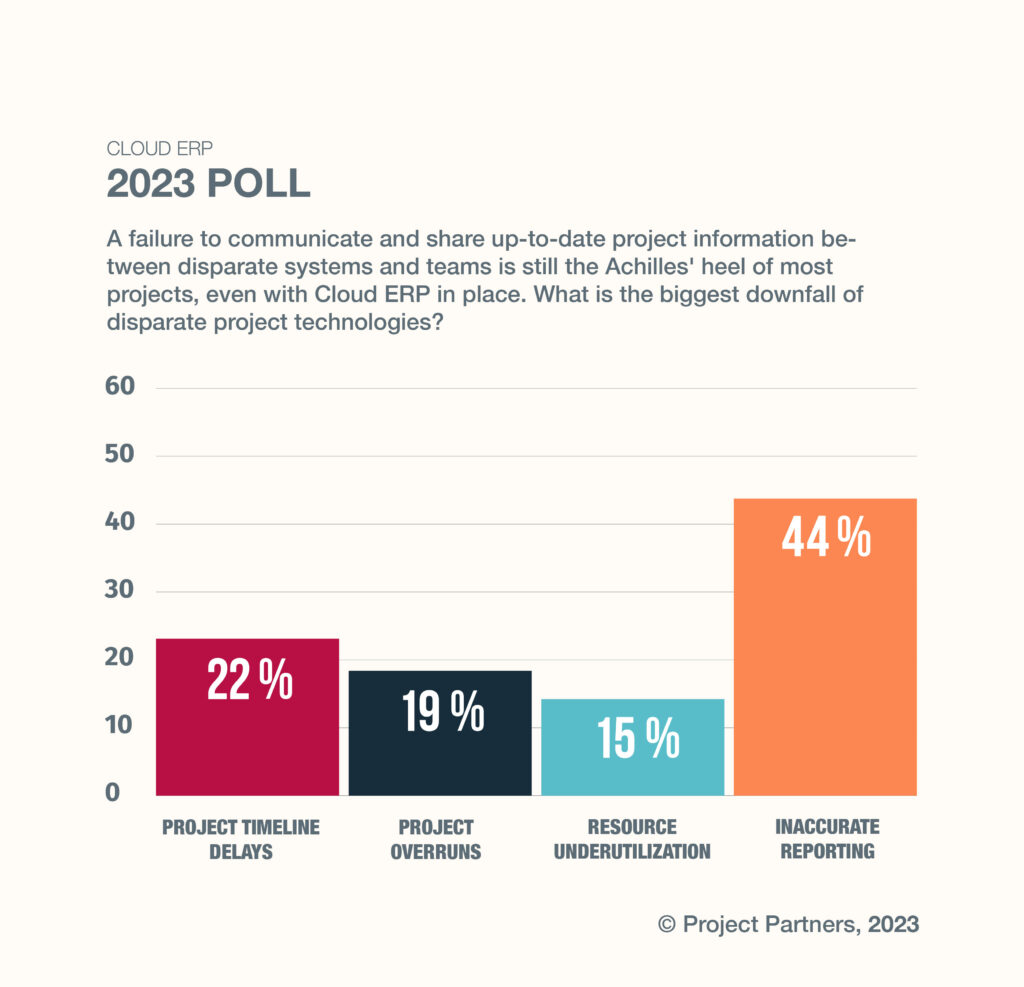 The common theme: if something unforeseen happens in your project or program lifecycle and you don't have the visibility or the communication to correctly analyze the facts and overcome it – it becomes a big deal. On-site teams, project managers, and executives need to be flexible and agile with client changes, business goals, market shifts, available resources, and the project itself – because, ultimately, nothing is 100% finite.
Invest in Project Maturity
To achieve project maturity, Oracle Cloud ERP needs to mold to fit your unique project operations, not the other way around. Cloud ERP has the ability to be far more effective if you:
In Conclusion
While Oracle Fusion Cloud ERP is a game-changing solution for organizations looking to streamline their business processes, it's important to remember that it is just one piece of the puzzle. The central nervous system of an organization must be interconnected with other essential systems, including project systems, to ensure the enterprise functions in unison. A recent poll on LinkedIn revealed that a lack of communication and sharing of up-to-date project information between disparate systems and teams is the biggest downfall of disparate project technologies.
To achieve project maturity and maximize the benefits of Oracle Cloud ERP, organizations must regularly assess their business and technological processes, integrate essential project technologies, and extend the ERP solution to meet their unique industry requirements. By doing so, they can improve project operational efficiencies and ensure their ERP implementation meets the current and future needs of their entire business.