How to Unlock the Value of your Project-Based Business Systems
Visibility & Control for Project-Driven Organizations
With the maturity of Cloud-based business applications, organizations can attain real-time visibility into their business performance with a single source of truth for business operations and finances. This modern technology can make enterprise organizations more competitive and profitable on a single, inter-connected Enterprise Resource Planning (ERP) platform for tracking and managing the entire services business lifecycle.
Successful service organizations require modern systems seamlessly integrate their ERP and Project Portfolio Management applications and processes. An integrated application infrastructure can be configured to lead your project-driven organization forward to greater efficiency from the moment a new sales opportunity is identified through project sourcing, project delivery, and financial accounting.
This blog will discuss the functionality and execution discipline of an integrated business application solution for project-based organizations. This is the first blog in a series by Project Partners LLC, in which we will delve deeper into "How to Unlock and Maximize the Value" of each functional area of the services business lifecycle. 

Watch this video for an overview of our blog series Enterprise Resource Planning Applications for Project Organizations. 
Modern Project Portfolio Management addresses all external inputs and outputs from the enterprise's business operations. An integrated methodology is necessary to tie all functional areas into a cohesive system, including ERP, Human Capital Management (HCM), Supply Chain Management (SCM), Customer Relationship Management (CRM), Enterprise Performance Management (EPM), as well as Project Management. etc.
Companies set to benefit from this approach include organizations in industries such as Professional Services (incl. Architecture & Engineering Services), Construction (Contractor and Sub-contractor), ETO/ATO, Utilities, Government (Federal) Contracting, State and Local Government, Financial Services, IT, Owner-Side Construction, Aerospace & Defense, Product Development, Capital Projects, and other indirect projects organizations. These organizations may represent entire companies, embedded sub-divisions, or service lines within broader global enterprises.
Foundational Applications
Business applications for enterprise organizations begin with the core financial applications, which include GL, AP, AR, Assets, and Cash Management, to record and manage their financial transactions.  Although managing Project financials can be accomplished directly with these applications via a project/task identifier in the GL chart of accounts, this is a very inefficient mechanism as it places a large burden on the GL to hold and report large volumes of project transactions. Further, this approach makes the operational groups reliant on the finance organization to provide them with the reporting they need to efficiently execute and manage projects.
Project Financial Management Applications
By providing an efficient bridge between finance and operational needs, Project Financial Management applications enable operations with a single source of truth for all project information. These applications provide visibility into the project structures, plans, and aggregation of all project costs, revenue, and invoice information while seamlessly interfacing with various financial applications needed to record, process, and report financial information. Further, these applications serve as a true sub-ledger by holding detailed project transactions for reporting and audit while providing finance with summarized entries that result in an uncluttered GL.
Enterprise Resource Planning (ERP) Applications
ERP for Project Organizations can be defined to include Financial Applications (including GL, AP, AR, FA, and Cash Management), HR Applications (HCM), and Supply Chain Management (SCM) Applications (including Sourcing, Self-Service Requisitioning, Procurement, Contracts and Receiving), in addition to Project Financial and Execution applications.
Human Capital Management (HCM) Applications
As people resources are critical to executing projects, HCM applications are also critical for project-driven organizations. These applications provide a single source of truth for people, organizations, jobs/roles, and cost rates for human resources. Project Partners' core competencies derive from integrating Financial and Project accounting applications seamlessly with HCM to leverage these core entities.

For these foundation applications, our Team has helped our clients structure financial processes based on industry standards and best practices and then further align these to the unique operational needs of the specific organization. This includes helping define project structures and classifications, resource types and sources, and cost types that best meet the organizations. Project Partners also assist with mapping project transactions to financial structures to enable the automated flow of data across applications and accounting.
Labor Costing for projects is our specialty: standard costing based on the person, role, location, and job levels, actual costing based on salary rates from HCM, or payroll costing based on periodic paid amounts. We bring a deep understanding of this complex function across industries and provide solutions that fulfill your project and financial needs while meeting all labor cost security requirements.
Project Sourcing Applications
Customer Relationship Management (CRM) Applications
Projects and new delivery orders for production are typically sourced from Sales using CRM applications to execute external contract work or from an approved budgeted portfolio of projects for indirect or capital work.
Sales opportunities in CRM applications are the initiation point for proposals that result in closed transactions and downstream execution.  An integrated application workflow from CRM to Project Delivery and Execution applications allows sales and delivery organizations to work together on the best possible proposals (using estimates from past projects, products, or templates). Quickly plan and execute the contract to close sales. Contract and Grant Management applications can optionally be included to manage complex contracts or execute work funded by grants.
Enterprise Performance Management (EPM) Applications
Budgeting and execution of proposed capital and indirect is reviewed, incorporated into organizational budgets, and approved for execution on a periodic (annual) basis using EPM applications.
When EPM applications are integrated into project financials, they enable a top-down and bottom-up planning and review process to arrive at the best possible mix of budgeted and approved projects. This integration also provides a means to optimize internal resources (demand and supply) and project prioritization and selection. Niche portfolio management applications, such as the Primavera application suite and Oracle Instantis, also provide good functionality in this space according to specific scenarios and requirements.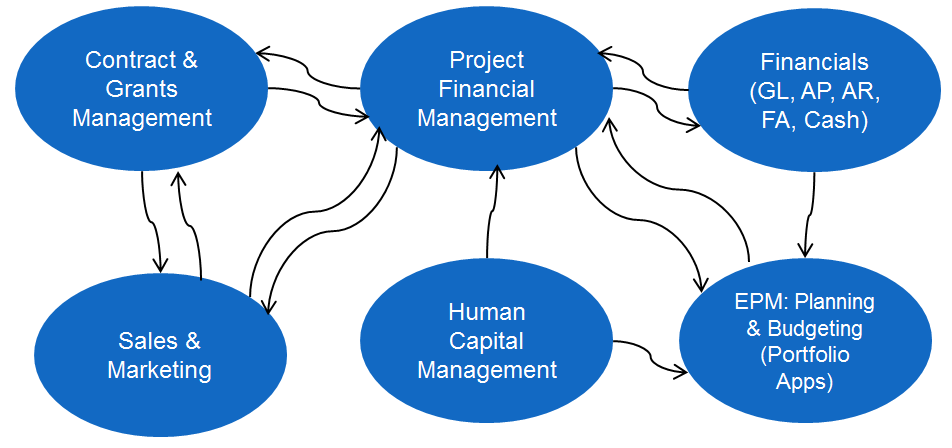 In addition to using best practice approaches to associate project sources with projecting execution applications, Project Partners provides software integration solutions that optimize and automate the entire project initiation and delivery process.
Project Delivery and Execution Applications
Successful project planning and execution across multiple functional areas requires a project execution management and workflow application, such as Primavera Unifier, to complement project financial management applications, such as Oracle E-Business Suite (EBS) and Oracle ERP Cloud (Oracle Fusion Applications).  In addition, Primavera P6 and other project management applications are used for more sophisticated project scheduling. These applications provide the functionality to manage the core elements of project delivery, including schedule, materials, and resources. At the same time, Primavera Unifier runs the workflow, approvals, contract management, and cost-control cycles, with touchpoints across all applications.
Supply Chain Management (SCM) Applications
SCM applications, such as sourcing, procurement, procurement contracts, inventory, etc., become critical for business operations that rely on procured items as a large percentage of project costs – typically construction and manufacturing project-driven organizations. These applications source their demand as driven by project plans. Subsequently, they provide purchase commitment transactions back to the project financials system for an accurate Management view of project cost (and liability).
In addition to the project delivery and execution applications discussed, Project Partners can implement and support the leading industry-specific business process optimization applications to provide functionality tailored to your industry requirements. Project Partners provides expert services in all of the following environments:
Professional Services Firms: Oracle ERP Cloud configured for Services Resource Planning (SRP)

In our following blog posts, we will explore this packaged Oracle Cloud solution from Project Partners – (See it demonstrated Live at Oracle Open World in October in San Francisco!)

Project-driven Industries: Oracle ERP Cloud integrated with Primavera Unifier/P6/Analytics
Capital Construction for General and Sub-Contractors: Primavera Prime
Construction for Owners, for system-wide Project Controls and Execution: Primavera Unifier
IT/Ideation/Product Development: Oracle Instantis and Oracle Product Lifecycle Management (PLM) Applications
Assemble/Engineer to Order: Shop-floor/Manufacturing Automation Applications
Utilities/Capital Intensive Industries: Oracle Asset Management Applications
Service Providers: Field Service Applications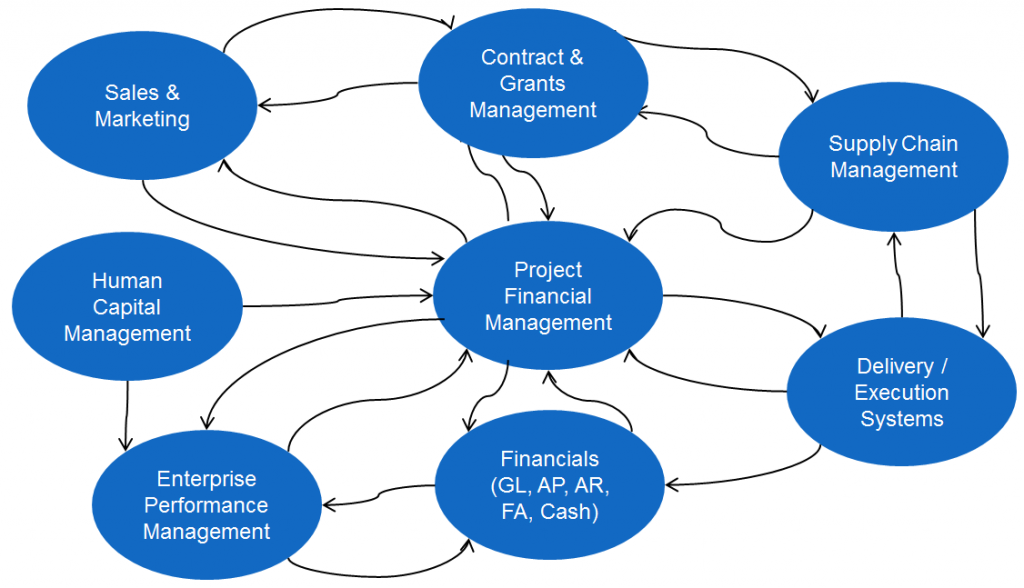 With process and software solutions to integrate back-office financial applications into front-office delivery and execution systems, Project Partners brings significant industry and business process experience. We deliver solutions to project-driven organizations that optimize and integrate all business systems and operations. Today's organizations require this cohesive end-to-end technology platform to operate more efficiently and competitively and drive more value and ROI from their IT investments.
Our implementation and integration solutions are designed to automate, streamline, and control project financial and project execution management processes end-to-end and, as a result, enable you to
Improve sales and service profitability with standardized offerings, costing, and pricing
Improve cash flow and customer satisfaction with accurate and timely invoices
Enhance worker productivity, competency/skill, and engagement
Workload balance across initiatives, projects, and cross-organizational management
Automate manual operational/financial processes and reduce redundant administration
Facilitate cross-organization interaction through workflows and social collaboration
Streamline your financial consolidation and monthly close cycle
Have a real-time, trusted, single source of truth for your business data and supporting transactions
Use role-based dashboards and Key Performance Indicators that provide insight into people, customers, projects, and financial performance
Contact us to unlock the value of your Project business applications
Stay tuned for additional blog posts on modernizing your enterprise business systems on a single ERP platform to maximize your business application investments.
Learn More:
Video: Business Applications for Project-Driven Organizations
Video: Oracle ERP Cloud Video Series
Solution Overview: Project Partners Services Resource Planning™