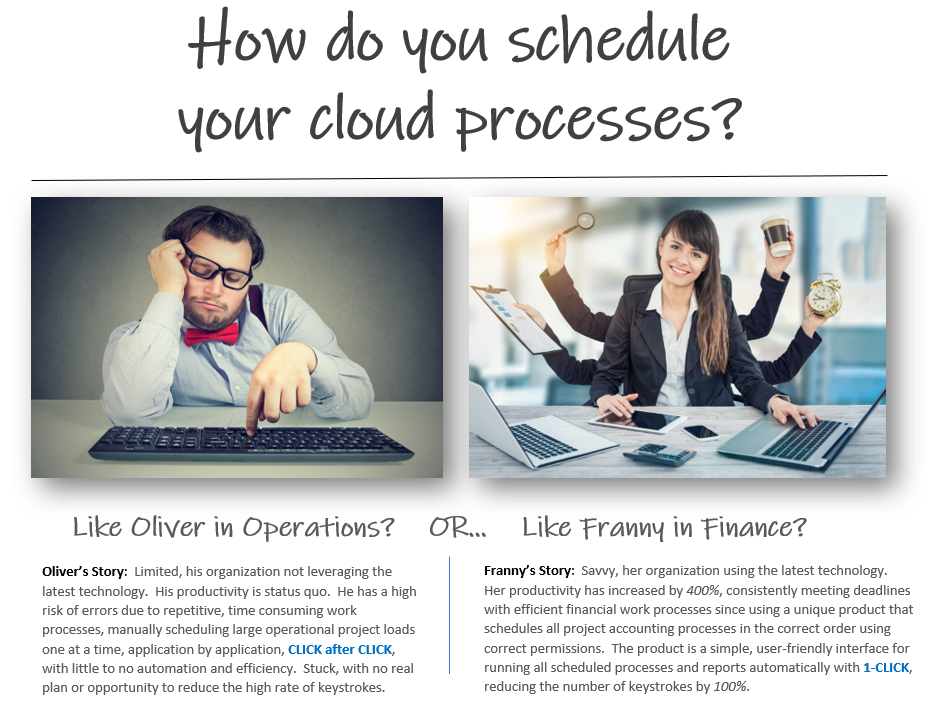 _______________________________________________________________________________________
Our prebuilt, configurable Microsoft® Excel workbook to submit, control and monitor all
scheduled processes and reports for Oracle ERP Cloud.
Helping hundreds of customers like "Franny" efficiently manage scheduled processes and reports in Oracle Cloud. The Cloud Process Scheduler is a unique process and report scheduler workbook available to the enterprise from Operations and Finance to HR and Sales, empowering these teams and enabling any user to:
Define scheduled processes and reports that need to be run periodically.
Set up fixed and variable parameters for each process and update variable parameter dates quickly.
No need to remember parameters or the order in which processes need to run after that. It does it automatically.
Setup process dependencies to enable efficient workflows.
Do not wait for system response time to navigate the Oracle Cloud screens/fields.
More accessible data entry when processing multiple Operating Units.
Start the entire set of processes with one click. Reducing the number of keystrokes by 100%.
Organize work into a group of activities and then process it as a unit.
Monitor the status of each process in the set as it completes while you efficiently complete other work.

To learn more about the FEATURES & BENEFITS and get a glimpse into how the Cloud Process Scheduler works, take a few minutes and view a brief Cloud Project Financials DEMO HERE. We believe that this product will significantly change how you manage your processes and reports in the Cloud and enable you to increase your user productivity.

Questions
Simply reach out to us, and our experts will immediately assist, provide additional information, demo, and next steps.
MORE ON CLOUD PROCESS SCHEDULER
P: #1.650.712.6203 Email: cfryc@projectp.com