Instead of waiting until the project budget has expanded, wouldn't it be nice to get real-time project cost information from your financial system to help know how the project is proceeding financially?
One of the biggest challenges many organizations face is not having visibility to project financials relative to the original spending plan. In addition, once a project is underway, the project's execution and control depend on reporting progress and time spent to complete that work. Integrating the project schedule activities with the financial systems can help to bridge that gap and provide project managers with the information needed to know how the project is proceeding and whether the project will complete within the planned budget.
In this two-part blog series, we will share the approach and effort to integrate Oracle Primavera P6 Enterprise Project Portfolio Management (EPPM) schedules with different Enterprise Resource Planning (ERP) systems, and the benefits realized from these solutions.
The Impact of Missing Information
Oracle Primavera P6 EPPM (P6) is an industry leader in project scheduling and resource management. P6 EPPM provides planned costs tracking, actual costs, percent complete, and earned value measures, such as Cost Performance Index (CPI) and Schedule Performance Index (SPI). Organizations often spend much time and effort planning the work. They create detailed schedules with resources/costs assigned to develop the spend plan over time. They may even make a baseline for comparison purposes.
Once the project is underway, they record progress on the activities, including Actual Start, Actual Finish, Expected Finish, and percent complete. However, without knowing the actual cost spent relative to the estimate to complete the work, they are flying blind. No organization can afford to operate with this blank check approach of out-of-control spending to complete the project. More predictive methods of performance are needed to control and manage projects better.
The Value of Integrated Solutions
So how do organizations get that information promptly to allow project managers to identify where cost overruns may occur and take corrective action to keep projects on track?
Organizations cannot ignore basic project management principles when undertaking an integrated solution platform. The old "garbage in, garbage out" has and always will apply to technology solutions. Organizations must ensure a collaborative approach to project planning- engage with the project team to secure agreement on scope, schedule, and estimates to complete the work. The right level of detail is also critical to ensure that the work can be well defined to know when it starts and when it is complete. Too much detail becomes an overhead nightmare; not enough detail and the team is guessing on percent complete and estimated completion dates.
Once the project planning and estimates are complete and agreed upon, the team can take ownership of the plan, make it the baseline, send the tasks to the financial system, and start tracking progress. Teams need to execute the plan, ensure that the work is precise, and report progress at least weekly. As the work proceeds, the information provided by the team on actual work completed can help project managers better understand the overall performance and trends and give advance notice when the schedule or budget may exceed the original project scope.
When all the project controls information is more readily available, project managers are in a better position to take corrective action to get projects back on track or recognize that the project needs to be replanned. Either way, the introduction of timely actual costs being sent back to the schedules will help project managers better understand the state of their projects.
The Typical P6-ERP Integrated Solution
A typical flow for an integrated solution will include exchanging basic project information. Configuring data transfer can be established regardless of where the applications reside with native technologies, such as web services or public Application Programming Interfaces (APIs).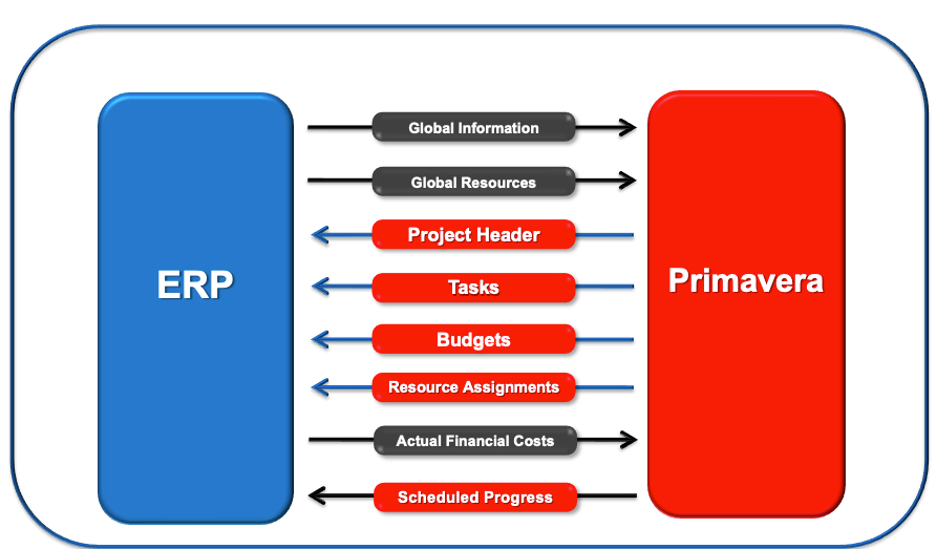 The frequency, timing, and method to trigger the data transfer are configured based on the organization's needs.
Stay Tuned For More Information
In our next blog, we will outline the eight key elements of a fully integrated solution and a successful use case in the Utility industry. In the meantime, check out this case study to learn how our team provided an integrated P6-ERP solution for our customer:
Interested in learning more about our unique approach to helping project-centric organizations? Watch this short video.
About the Author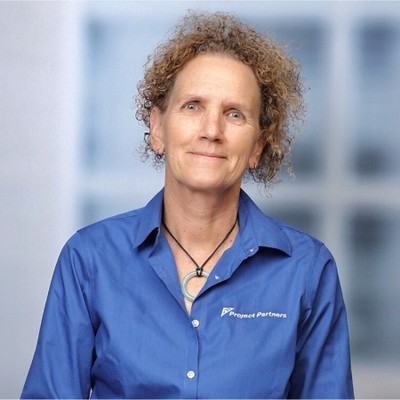 Terri Maginnis is the Practice Director in the Project Partners Primavera / PPM Division. She has 30+ years of project management, scheduling, business process improvement, and solution architect experience that spans multiple sectors including AEC, power/utilities, information technology, transportation, health care, DOD/military construction, and higher education. Terri began her project management career as a U. S. Navy Civil Engineer Corps officer and started using Primavera as a general contractor in 1989.
In 1998, she established an Information Technology Project Management PMO for the California Public Employees Retirement System (CalPERS) working on the corporate database project, a custom CRM rollout, and several investment office projects. She also set up an ITPMO for Hewlett Packard's ProCurve Networking Division's IT organization. She began Primavera consulting in 2006 and has designed, implemented, and trained solutions for 100+ companies in the use of Primavera products for business process improvement.