There is a significant uptick in infrastructure projects in the U.S. with the passing of H.R. 3684 – The Infrastructure Investment and Jobs Act at the end of 2021. This act authorizes funding for Federal-Aid Highways, Railways, Highway Grade Crossings, Highway Safety Programs, and a lot of other infrastructure needs. Usually, these funds are distributed as Grants to various Federal, State, and Local Agencies to execute the proposed infrastructure projects.
Many of these infrastructure projects are typically funded by several Grants and funding sources – including internal funding from the receiving agencies. These agencies, in turn, face a challenge in managing these projects while ensuring that they appropriately utilize the multiple grants that are funding them.
Oracle Cloud ERPs Grants (and PPM) modules provide standard functionality in this regard, making it easy to set up your Awards, Funding Sources, and Projects and manage the complexity involved with multiple Awards and Funding Sources for their projects.
How Is This Achieved?
The following sections lay out how this can be achieved with Oracle Cloud ERP.
In Oracle Fusion Grants, Grant Administrators can associate a sponsored project with multiple awards and/or multiple funding sources within an award. For a sponsored project that's associated with multiple awards and funding sources, you can:
Create a budget and a control budget for an award and a funding source.
Create and control costs for the specific award and funding source.
Generate bills for external funding sources.
Report cost and budget based on the funding sources.
Optionally, apply burden costs to the raw costs for the internal funding sources.
Automatically split costs among funding sources using funding patterns.
Fusion Grants enable budgeting for sponsored projects in the context of an award (and funding source) and a project. You can define a budget based on the funding allocated to the project from a particular award and/or funding source. The budget can be defined at a summary level or can be as detailed as needed by different levels of the project WBS and planned resources such as labor, sub-contractors, and other direct costs (ODCs).
You can also enable your budgets to control costs at different levels of the budget, thereby ensuring you don't ever overrun the funding provided by a particular award. You can, optionally, apply burden costs to your base costs (to account for overheads) and report on these costs by award/funding sources. Finally, you can generate invoices based on these costs for the sponsoring external agencies.
When multiple awards fund a project, you can define date-effective distribution sets that will automatically split all costs across multiple awards and funding sources based on the prescribed funding patterns.
What Are Distribution Sets?
Distribution sets in funding patterns provide the ability to set an order of precedence for a set of rules. Distribution rules define cost distribution percentages for award and funding sources. Consuming applications such as accounts payable and procurement, as well as third-party integrations, apply the funding patterns to receive distributed costs based on the project, task, and expenditure item date of the cost.
The action Distribute Project Costs is available across the procure-to-pay lifecycle (requisitions, purchase orders, accounts, Payable invoices) when you have active funding patterns. The action is automatic when distributing the invoice line on accounts payable invoices. When you create requisitions or purchase orders, you can use the action to distribute costs manually. Or, if you submit your requisition or P.O., funding patterns are applied if the contract/award and funding source aren't provided.
The Manage Unprocessed Costs screen applies active funding patterns to sponsored costs. You can use the Test Award Distribution button to see the potential cost distribution and if there are any errors. Correct your funding patterns; you can retest and import costs when you're confident they will be successfully distributed.
Distribution Set Examples
The following is an example of how distribution sets can be used to easily apply funding patterns to distribute your project costs across multiple awards/funding sources.
A city plans to replace a road bridge within its jurisdiction for road safety purposes. For the purposes of this project, the city owns the sponsored project and is also an internal funding source. In addition to internally budgeted funds, the city has also received grants from the following agencies:
The State: these funds are available only through the end of the current fiscal year (for an additional six months)
Federal Transportation Agency
State Transportation agency which requires a cost share of 50% of funds provided
Based on this requirement, when setting up the awards and project in Oracle Grants, you will need to define the following distribution sets:
Set 1: Spend state funds first (effective dates from now through the end of the fiscal year)
| | | | |
| --- | --- | --- | --- |
| Rule Num | Award | Funding Source | Percentage |
| 1 | State Bridge | State | 100 |
Set 2: Spend funds from federal and State transportation agencies, effective the next fiscal year
| | | | |
| --- | --- | --- | --- |
| Rule Num | Award | Funding Source | Percentage |
| 1 | State Transportation | STA | 40 |
| 2 | State Transportation | Internal | 20 |
| 3 | Federal Transportation | FTA | 40 |
With these distribution sets in place, all costs charged to the project (including procurement costs) will now be automatically distributed to the State for the first 6 months and then split between the STA, FTA, and the city budget after that.
With these delivered features, Oracle Fusion Grants and PPM modules provide an ideal platform for managing infrastructure projects funded by multiple grants and funding sources.
A Recent Poll
According to a recent poll conducted on LinkedIn, we asked our followers:
Project Funding: Weigh in on your current approach!
Many options are available when financing projects—from federal, state, and local sources to stimulus programs, bonds, grants, and more. Each funding source has its unique role in usage and distribution, making financial management a complex endeavor. How does your firm manage multiple funding sources throughout the project delivery?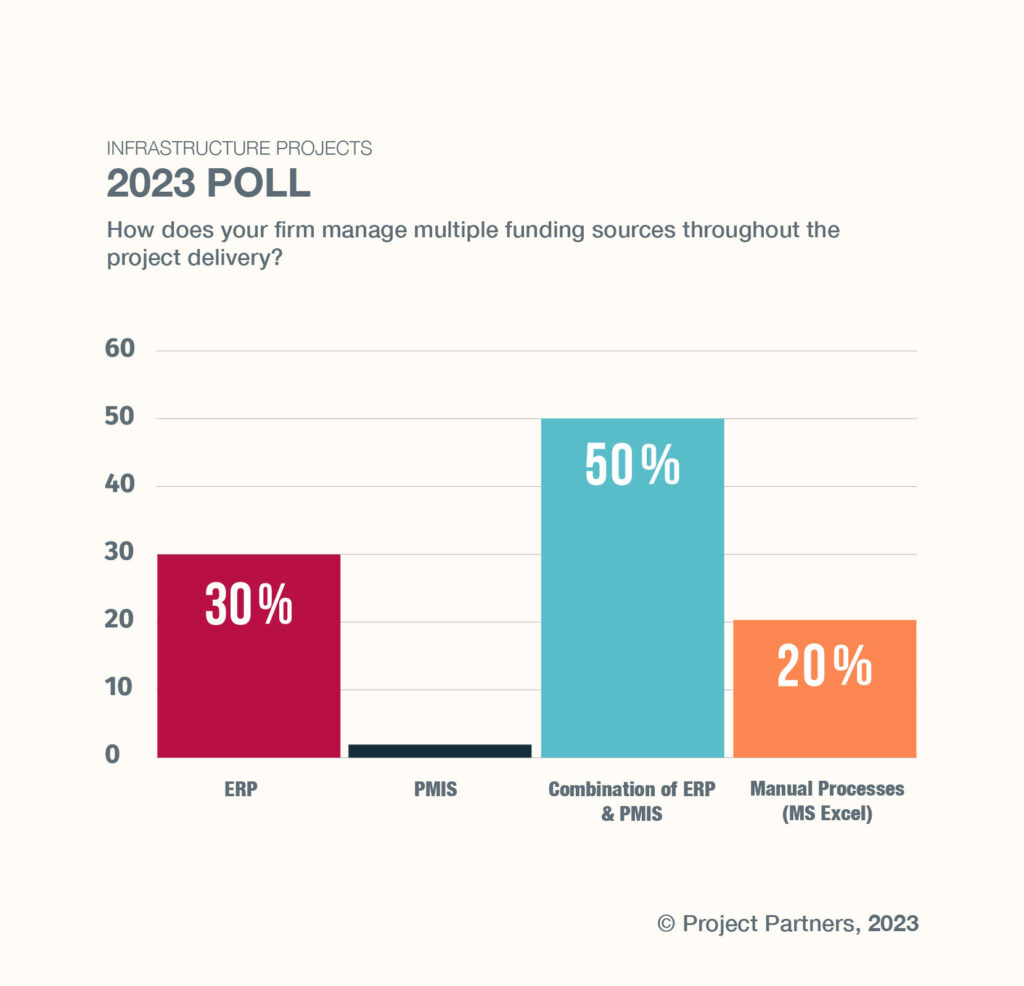 Check out this case study to learn more about how we enabled MARTA to gain access to real-time access to critical funding & resource data.